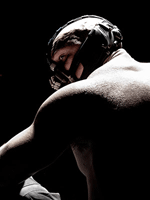 Nothing much going on today, so why not toss up a good ole' fashioned SEO-baiting post? Those of you planning to take in "Harry Potter and the Deathly Hallows: Part 2" next weekend (which I imagine is most of you), you'll be delighted to know that, according to Superhero Hype, Warner Bros. will attach the first teaser trailer for Christopher Nolan's "The Dark Knight Rises" to prints of the film. Enjoy.
Also hitting next weekend, the story says, will be the teaser poster. I don't remember there being any teaser posters for "Batman Begins" (unless I'm mistaken), but "The Dark Knight" had that face-paint-on-a-brick-wall thing and the frosted glass Joker image. This could be where they tease the inclusion of Catwoman (and maybe a catch phrase a la "Why So Serious?"). Guessing.
I had an exchange with a friend recently regarding the anticipation for this film. He argued that it's at a higher fever pitch than any film since "Star Wars: Episode I — The Phantom Menace," but I don't feel that way. Sure, it's huge amongst the geek set (given the blurred footage of ABSOLUTELY NOTHING that floated around two weeks ago). But I still think "Avatar" was a bigger deal. The media (not just online choir-preaching) was pushing the issue on that one pretty hard.
What else even comes close to these, though? I mean, when I think of anticipation worth throwing into this discussion, I think "Jaws," "Batman," "The Phantom Menace" and "Avatar." Maybe "Inception," a by-product of being Nolan's first film after a "big, fat, big-titted hit!" "The Hobbit: An Unexpected Journey" will likely drive the kind of enthusiasm that we're talking about. But even the new Harry Potter movie doesn't feel like it has the same heft behind it. "It all ends." Seems the only response is, "Thank God."
Anyway, WB is also launching the trailers for "Sherlock Holmes: A Game of Shadows," "Happy Feet 2" and "Contagion" next weekend, the Superhero Hype story says. Be on the lookout.
[Photo: Warner Bros. Pictures]