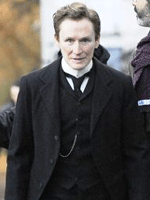 It figures the day after I offer up my first set of Oscar predictions, a film I have an eye on as a potential awards vehicle finds distribution.
Roadside Attractions and Liddell Entertainment have picked up Rodrigo García's "Albert Nobbs" for a fall release, and with it, you can bet a campaign for actress Glenn Close will be wind in the sails. On paper, the role seems to be the sort that could get Close that elusive first statue (much to the chagrin of Meryl Streep fans the world over, I imagine), but let's see if the film has the goods, first.
It's interesting to note that Close originally portrayed the character — a woman who poses as a male butler in a Dublin hotel in the 1860s — 30 years ago on Broadway in a stage adaptation of George Moore's short story "The Singular Life of Albert Nobbs." She won an Obie for her performance and this is a film project she's been developing for a decade. She even co-wrote the screenplay and served as producer. Maybe an Oscar is next.
Roadside and Liddell also had great success seeing Javier Bardem's performance in "Biutiful" to a nomination last year, by the way. And against all odds, at that.
I've taken this occasion as an opportunity/excuse to inject the film into the charts and the performance into my predicted five. I also, by the way, pulled "Moneyball" out of the Best Picture line-up in favor of "Midnight in Paris," which I really wanted to do anyway (seeing as I only had the former pegged for the one nomination). I also figured I'd go with Close in those who-cares-anyway winner predictions, because it just feels better.
Okay, now I'm OFFICIALLY officially done with Oscar stuff for a while. This was really the one pick-up I was waiting on.
[Photo: Irish Central]