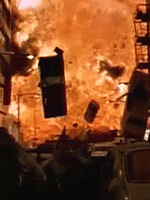 With "The Social Network" picking up yet another award last week (for Best in Show at the Golden Trailer Awards), Ryan Adams at Awards Daily asked for personal picks for favorite trailers.
There are a number that spring to mind for me. I maintain that the first "Pearl Harbor" trailer (link), with the score from "The Thin Red Line," was absolutely masterful. The "Alien" trailer (link) is in many ways more unsettling than the actual film, while just two years ago, whoever pieced together the tease for the Coens' "A Serious Man" (link) knew what was up.
Even more recently, the trailers for "Black Swan" (link) and David Fincher's "The Girl with the Dragon Tattoo" (link) dazzled, while the "Tinker, Tailor, Soldier, Spy" trailer that dropped last week reminded me of how tightly constructed the one for "A Single Man" (link) was. But the truth is, when I think of movie trailers and their power to seize your attention, I'm taken back some 15 years to a sci-fi film and a tease that had me more intrigued than whatever film I was about to watch. And it contains the single greatest image ever used to sell a film, in my opinion (the final shot). Since it ties in nicely today, I figure I'll offer it up after the jump.
Yours?
Also, for more holiday reading, check out the 12 films that made Bilge Ebiri want to be an American. And be sure to check back after your burgers and beer and fireworks for the first Off the Carpet column of the season.
Happy 4th.
[Photo: 20th Century Fox]