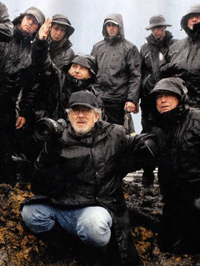 It felt really good to duck out of the looking-ahead business after last year's fairly contentious (both amongst the films and their supporters) Oscar season. I didn't saddle up to the upcoming season until a few weeks ago, hammering out preparations for this column, and even this, most would tell you, is too early.
But at the start of July, in the midst of an interesting (critically speaking) summer movie season, and with half the year behind us, it seems a decent time to take stock of 2011's Oscar business. And Disney may have gotten the conversation going just in time with last week's debut of the trailer for Steven Spielberg's "War Horse."
With the influx of film awards coverage this last decade, Oscar strategists have switched gears in how they campaign for the gold. With a cycle that chews and chews and chews on whatever is available to digest, being the early frontrunner has become the kiss of death. Films like "The Aviator," "Brokeback Mountain," "Dreamgirls," "Charlie Wilson's War," "The Curious Case of Benjamin Button" and "Up in the Air" failed to reach the winner's circle in recent years after being hailed as tough cookies early on. Some of them put up better fights than others, some of them didn't even manage to rise up to a nomination, but all of them looked formidable at one point or another before having their legs knocked out from underneath them.
Last year, David Fincher's "The Social Network," a critically acclaimed drama that spoke to the zeitgeist, was pitched in early October as a sure bet for a nomination and a likely threat to win Best Picture, which would have made good on four-straight years of critical darlings turning the trick. Few expected — until the guilds began speaking up in January — that the film was burning too much fuel to survive, and The Weinstein Company was surely happy to let it hog the spotlight (and the vigorous approval of the press) before coming around the outside on the fourth turn with "The King's Speech."
And now, "War Horse." Spielberg himself has been in this position before, recently, in fact, when in 2005, "Munich" looked like the favorite. The film came, dazzled some, left others cold and eventually managed serious nominations. But it failed to reach the finish line.
Like "Munich" and his 1993 Best Picture winner "Schindler's List," Spielberg is matching his prestige film with blockbuster fare this year. "The Adventures of Tintin: The Secret of the Unicorn" will be his "Jurassic Park" and "War of the Worlds" for 2011, and furthermore, it'll be opening the very same week as "War Horse," right in the middle of the Oscar conversation, as ballots are landing in mailboxes over the holiday. More importantly, though, it could be the year of Spielberg like never before.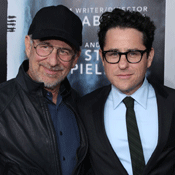 J.J. Abrams' "Super 8" (which "The Beard" produced) has already hit and become a big favorite in the industry, aping off Spielberg's early style and elevating the man to even higher iconic status. "Transformers: Dark of the Moon," also sporting his name loud and proud, could be the year's #1 domestic grosser (since the franchise historically has outperformed the Harry Potter films in the states, though the closing installment of the latter may not be denied). And his own films could make for a hell of a one-two December box office punch themselves.
He's there again on the small screen this summer with TNT's "Falling Skies" and Fox's "Terra Nova," and "Cowboys & Aliens," which he executively produced, is still to hit theaters later this month. More things seem to carry the stamp of "Spielberg" this year than ever before. (EDIT: And readers are already reminding me of "Paul," which was obviously a big ode to Spielberg cinema.)
I realize I'm dedicating the first Oscar column of the year to one guy, and that's not totally fair. But really, it could turn out that way. It's all about the narrative, as Mark Harris shrewdly wrote two years ago. And when you dovetail all of this with the recent Tony win for "War Horse," well, it begins to look like a potentially perfect storm.
But let's not get too far ahead of ourselves. Like I said, no one wants to be the frontrunner, even if you've got the goods.
Peripheral to that, there is a lot of work on the way that deserves notice from here. Clint Eastwood will be back yet again, with "J. Edgar," and I'm more hopeful with a guy like Leonardo DiCaprio on board (who is always shrewd about his collaborations). George Clooney will have another political take in "The Ides of March," which could be Sony's best bet (already set for Venice's opening night).
Martin Scorsese will dip his toes into 3D and effects with "Hugo" (perhaps Paramount's big hopeful, of a massive slate, its title slowly scaling back from the original "The Invention of Hugo Cabret"). Alexander Payne will finally be back with what looks like another smart comedy in "The Descendants." Cronenberg, Crowe, Miller, Polanski, Fincher, Scherfig, Reitman, all back. Allen and Malick are already in the mix, and even Madonna wants to play. But one of the real questions will be whether Stephen Daldry can make history with a fourth-straight Best Director bid, for "Extremely Loud and Incredibly Close" (which was just announced for a December release from Warner Bros., but was still filming as of two weeks ago, so who knows if it'll stay on the slate.)
On the whole, I'm a bit optimistic this year, so…here's hoping.
I've finally put together a list of predictions for the new season. The Contenders section has been updated in full with charts indicating notions, guesses, instincts, etc., while the sidebar predictions reflect those calls. And none of it, mind you, should be taken seriously just yet. We still have another two months before these films roll out for press and along the fall festival circuit, so let's see what happens…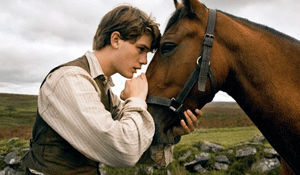 …however, I thought I'd be extra silly this year. Seeing as I took so long to lay the foundations for the season here, I figure why not make it up to you by giving you something else to chew on. Say, an early slate of winner predictions?
OMGWTF, I know, but whatever. It'll be fun to see how right or (more likely) wrong these turn out to be in eight months' time. I'm planting a flag below for "War Horse" dominance. The only Best Picture winners to take more than four trophies in the last decade are "The Hurt Locker," "Slumdog Millionaire," "The Lord of the Rings: The Return of the King" and "Chicago." It seems to me another one can't be far off.
One last note: Anne and I will offer one more off-season podcast this Friday, July 8. We'll take the rest of the summer off and saddle back up to the weekly stuff on Friday, August 26, the week before Venice and Telluride officially kick off the season. That'll follow my next Off the Carpet column (the first of the weekly business), which hits Monday, August 22.
But for now, I'm going back into Oscar hiding. More in six or seven weeks. Enjoy the updates.
Lamebrain winner predictions for the 2012 Oscars:
Best Picture: "War Horse"
Best Director: Steven Spielberg, "War Horse"
Best Actor: Leonardo DiCaprio, "J. Edgar"
Best Actress: Glenn Close, "Albert Nobbs"
Best Supporting Actor: Kenneth Branagh, "My Week with Marilyn"
Best Supporting Actress: Keira Knightley, "A Dangerous Method"
Best Adapted Screenplay: "War Horse"
Best Original Screenplay: "The Artist"
Best Art Direction: "Hugo"
Best Cinematography: "War Horse"
Best Costume Design: "Hugo"
Best Film Editing: "War Horse"
Best Music (Original Score): "War Horse"
Best Music (Original Song): abstain
Best Sound Editing: "Super 8"
Best Sound Mixing: "War Horse"
Best Visual Effects: "Hugo"
Best Animated Feature Film: "Rango"
[Photos: Touchstone Pictures, Paramount Pictures]