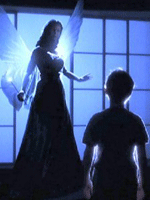 It was June 29, 2001. I was in film school. I opened the local paper, read my friend, the film critic's, review of "A.I.: Artificial Intelligence," Steven Spielberg's distillation of a project he and legendary filmmaker Stanley Kubrick had developed together for years.
I was nervous. I had, for one, hit a post-adolescent anti-Spielberg stretch (which I fully own as childish, but attribute in part to my feelings on the "Saving Private Ryan" vs. "The Thin Red Line" situation of a couple of years prior). Like any cliched film school student, I was a Kubrick obsessive. I wanted this to come off without a hitch.
The review was positive. Not an all-out rave, but enough to really get my hopes up. I hit the first matinee of the day, bells on, ready. The film washed over me and it didn't connect. Something felt off. I heard the film, but I didn't listen to it (to paraphrase, of all things, "White Men Can't Jump"). So I adopted early on an attitude toward the film that I soon would understand as limited even if it wasn't ill-considered.
I wanted the dreary finale that myth came to define among a certain class (wrongfully) as the way Kubrick might have seen it, not the "Spielberg ending," as it came to be not-so-affectionately known. It wasn't until six or seven months later, when the film hit DVD and I gave it another look, that I really allowed myself to respond to what Spielberg was doing, and to accept that, in truth, it was always a project meant for him, and for good reason.
An early line from William Hurt speaks to the very fabric of the film's thesis: "Didn't God create Adam to love him?" From there an incredible narrative unravels a story about human selfishness and failed responsibility, about such imperfection weighed against a pursuit OF perfection before a Creator, be the pursuer mecha or orga.
Finding sentimentality in the film's denouement is strange, I feel. Perhaps it's an extension of the vibe of Spielberg's career, but this film is actually the least "Spielberg" of his portfolio to date. The advanced A.I. that show up in the final moments (to this day erroneously considered aliens by some) ultimately represent the boiled down point of the endeavor. They seek the meaning of all things and view the human spirit, long evaporated, as the skeleton key. They seek their God.
These are themes old as time, spun here with delicacy and, in some ways, perfection. I have come to see the film as Spielberg's most thorough consideration and can't imagine truly viewing the enterprise as rushed or hastily pondered.
But that's my journey with this film these last 10 years, unbelievable as it is that a decade has passed since that first disappointed viewing. "A.I.: Artificial Intelligence" is a singular piece of work on the canvas of cinema. It is the marriage of separately unique directorial perspectives yielding an experience unlike any other, but it boasts a familiarity owed to its philosophically subatomic considerations. It is science-fiction at its very best.
More on Spielberg Monday in the first Off the Carpet column of the new Oscar season.
[Photo: Warner Bros. Pictures]