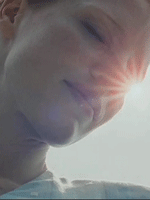 Last week you'll recall we covered the west coast leg of "Insights, Inspirations and Impact," a philosophical and religious panel discussion of Terrence Malick's "The Tree of Life." Fox Searchlight has made a few clips from the New York leg available and I thought I'd post those up for further digestion. So…SPOILERS.
First you'll hear from David Silverman, president of American Atheists (and a perspective I was bummed we didn't get in Los Angeles). He takes umbrage with what he perceives as a "Christian ending" (deeming the setting "heaven," as many have, which I don't think is so cut and dry). He also makes the mistake of thinking a Job analogy is inherently religious. I would call it inherently human. (A Buddhist later offered the counter-point that he didn't view the film as wholly Christian given its depiction of evolution.)
Second you'll hear from George Lavoo of The School of Visual Arts, who makes the shrewd point that, in the landscape of filmmaking engineered toward a very specific reaction, "The Tree of Life" is the rare film that eschews manipulation.
Check out both clips after the jump.
[Photo: Fox Searchlight Pictures]