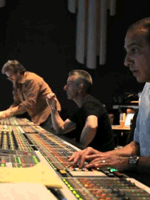 I think "Transformers: Dark of the Moon" will be back for the full trio of Best Sound Editing, Best Sound Mixing and Best Visual Effects at the Oscars this year, after the franchise's second installment managed only one of those. The sound work in particular is once again top notch, one of the most carefully sculpted and edited aural experiences I've heard in a theater.
Erik Aadahl, Peter Devlin, Jeff Haboush, Greg P. Russell, Gary Summers and Ethan Van der Ryn, among others, were all back to their respective duties creating the soundscape of the film, and as always, the Soundworks Collection has done a wonderful job bringing that task to light.
In an accompanying interview of the featurette (which you can check out after the jump), Russell says, "It's the most ambitious sound film I know, without question, I've ever been a part of," and that's a pretty bold statement for a guy with his resume.
Additionally, in Michael Bay's letter to projectionists regarding the presentation of the film (which many knocked the director for, while applauding Terrence Malick for essentially the same thing — go figure), he notes, "Many theaters are presenting [the film] in the brand new 7.1 sound, which is awesome. This is the most complex, intricate sound track that me and my Academy Awarding winning sound team have done. They really out did themselves to make this a big picture experience."
I agree whole-heartedly. At the end of the day, you may take issue (even serious issue) with the storytelling elements of the film, the acting, etc., but there is simply no doubting that the technical craftsmanship is state of the art. I hope everyone gets their due at the end of the year.
Here's the full package:
(One last note: A big congrats to Russell and Scott Millan, who will head up an exciting new mixing venture Technicolor has been building at Paramount.)