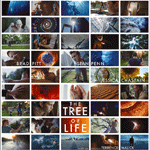 I've had this poster for Terrence Malick's "The Tree of Life" sitting in a tube in the office for weeks now. Since I don't really have space for it on the wall, and seeing as it's a bit fresh given the on-going roll-out of the film in theaters, I thought I'd offer it up in a new contest.
"Tone poem" is a term often used to describe Malick's work, so I thought we'd go with another haiku contest (as always, courtesy of Sasha Stone at Awards Daily who does them often). So offer up your best Malick-themed haiku (5, 7, 5 syllables, remember) and the cream of the crop wins. You can do something built around his work or around the film itself, up to you.
Let's give this, oh, until the end of the week. So midnight (PT) Friday is the cut-off. Ready, set, GO!
[Photo: Fox Searchlight Pictures]