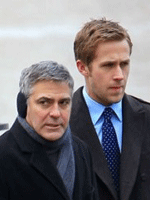 Once again this year, Guy will be covering the Venice Film Festival while I'm up in the Colorado mountains catching this and that at Telluride. Today, via Variety, the former's opening night film has been announced:
George Clooney's "The Ides of March" has been tapped as the opening film of the 68th Venice Film Festival on Aug. 31. Fest hasn't made an official announcement but a source not authorized to speak for the event confirmed the selection Monday. Sony's dated the political thriller for an Oct. 7 limited release.

Clooney directed from a script he co-wrote with Grant Heslov. He also stars in the film, which is based on the Broadway play "Farragut North," written by Beau Willmon.
It goes without saying, this one could be a big player on the circuit this year. Which reminds me, mark your calendars because July 4 I'll finally dip my pen in the prediction ink this year with a new column and reassessment of the Contenders section.
[Photo: Columbia Pictures]