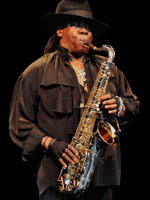 I remember the first time I saw Bruce Springsteen and the E Street Band vividly. I was late to the party. Springsteen's music — still one of my earliest childhood memories — had been thrilling fans for decades before I finally saddled up to what is probably the greatest live show in the business (for my money — money I've spent six times since, once in London). But I actually took something pretty specific away from that night.
The lights dimmed and then it hit: a long, slow, nuanced saxophone build-up to "The River." It was beautiful. It was haunting. It was emotional, tender and, above all, spiritual. The very same show solidified for me what is still my favorite Springsteen track — "Spirit in the Night," from his debut album, "Greetings from Asbury Park" — and that can be attributed in a big way to to the frolicking saxophone that dances through the story of that song. And now, the voice, the breath, the man behind that instrument has been taken from us.
I saw the breaking news report on Clarence Clemons's death on TV at an Anaheim sports bar while some friends and I were pre-gaming last night's U2 show. Even though he had been in bad health the last few years and even though last week's stroke indicated his days were likely numbered, the news was just gutting.
Whatever your thoughts on Springsteen's music, you can't deny the presence and personality Clemons brought to the table. The music carried his identifiable signature more than Stevie Van Zandt and Nils Lofgren's guitars, more than Max Weinberg's drums, more than Gary Tallent's bass, more than Roy Bittan and Danny Federici's keys, more than Patti Scialfa's guitar and vocals and, indeed, sometimes more than The Boss himself. The sax was the pulse of whatever soul the E Street Band has conjured these last 40 years, ever since "a change was made uptown and the Big Man joined the band." And there will be a huge hole, literally and figuratively, left in the wake of his passing.
Clemons's addition was a freight train. It drove the narrative of Springsteen's work. It gave an accent the was at once lifting and immersive. When I think of Springsteen, I think of Clemons's solo on "Jungleland." I think of his rowdy addition to "Tenth Avenue Freeze-Out." I think of what he gave to "Badlands," "I'm Goin' Down" and, most certainly, "Thunder Road." When I think of Bruce Springsteen, I think of Clarence Clemons.
Until U2's finale last night, there had been no mention of Clemons's death. I felt a bit miffed, but then I figured the news was so fresh, maybe the band didn't know. Then, as the lights dimmed and the arrangement on "Moment of Surrender" came to life on stage, Bono said to the audience, "I want you to think about a beautiful, symphonic sound that came out of one man's saxophone. Think about Bruce Springsteen and the E Street Band. Think of Clarence Clemons. This man just carried music, and music carried him…until this day." The boys bid farewell to the Big Man with their last song of the evening, and then, as the final notes rang out, in a profoundly touching display, Bono recited a lyric from "Jungleland" like it was poetry. It was the perfect close.
Springsteen had this to say on Clemons's passing:
Clarence lived a wonderful life. He carried within him a love of people that made them love him. He created a wondrous and extended family. He loved the saxophone, loved our fans and gave everything he had every night he stepped on stage. His loss is immeasurable and we are honored and thankful to have known him and had the opportunity to stand beside him for nearly forty years. He was my great friend, my partner, and with Clarence at my side, my band and I were able to tell a story far deeper than those simply contained in our music. His life, his memory, and his love will live on in that story and in our band.
And indeed, Clemons is a man immortalized. His story is there in the lyrics to "Tenth Avenue Freeze-Out." He's there staring back at us on the cover of "Born to Run." He, like the music, will live forever.
My thoughts go out to Clemons's family, both on stage and off. It's a crushing loss, but one that reminds us why we love a life of work as much as we do.
Good luck. Goodbye.
[Photo: Billboard]