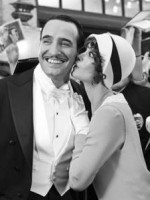 Harvey Weinstein has never been one to put much faith in the length of Academy voters' memories, so as usual, he's favoring a late-year release plan for his presumed awards contenders — the prospects of which I was discussing only the other day.
Thanks to Coming Soon's Ed Douglas for pointing out the newly announced release dates for his holiday-season prestige slate. You won't be surprised to hear that it's November and December down the line: "My Week With Marilyn" is first to go forth on November 4, followed by "The Artist" on November 23, "Coriolanus" on December 2, "W.E." on December 9 and "The Iron Lady" on December 16.
You can read as much or as little into this schedule as you like, though it's worth noting that none of them are bowing as late as last year's Weinstein Company property "Blue Valentine," the perilously tardy post-Christmas release of which was widely blamed for a meager awards showing — with more time for glowing critical buzz to build, Ryan Gosling and writer-director Derek Cianfrance could arguably have stood a better chance of joining Michelle Williams in the nominee circle.
The date here that interests me most is the comparatively early slot given to European arthouse charmer "The Artist," which I've already suggested might be the likeliest of the Weinsteins' current titles to find its way into the Best Picture race. ("Marilyn" and "Lady" are, as yet, unknown but presumably performance-driven quantities; "Coriolanus" I feel confident earmarking only for Vanessa Redgrave's powerhouse supporting turn.)
A Thanksgiving week release affords Michel Hazanavicius' Cannes-awarded silent-movie homage some necessary breathing room to find its audience and allow word of mouth to build within the specialty market, which a proven crowdpleaser like this one shouldn't have much trouble doing. Coincidentally or otherwise, the Weinsteins opened "The King's Speech" on a similar date (November 26) last year: could turkey-time prove similarly lucky for a less tailored Best Picture contender?
[Photo: The Weinstein Company]