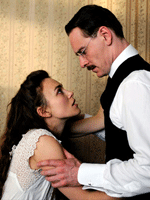 Anyone else ready for Michael Fassbender to have a big fat coming out party this year? The press release, in part:
Sony Pictures Classics announced today that they have acquired the US Rights to David Cronenberg's A DANGEROUS METHOD from UK based Hanway Films. The film, produced by Jeremy Thomas (THE LAST EMPEROR, SEXY BEAST), stars Viggo Mortenson, Keira Knightley, Michael Fassbender, and Vincent Cassel. The film is currently in post-production…

Seduced by the challenge of an impossible case, the driven Dr. Jung (Michael Fassbender) takes the unbalanced yet beautiful Sabina Spielrein (Keira Knightley) as his patient in A DANGEROUS METHOD. Jung's weapon is the method of his master, the renowned Sigmund Freud. Both men fall under Sabina's spell.

"David Cronenberg and Jeremy Thomas have made a film that not only has an impeccable cast and crew working at the height of their talents but tells one of the most fascinating love triangles of the twentieth century. The American public will enthusiastically embrace this picture. We are delighted to be in business again with Jeremy and David," states Sony Pictures Classics.
[Photo: Sony Pictures Classics]