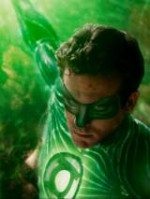 In coming up with an idle, pop-related title for this post, I was faced with two choices: the one I eventually went with, or "We don't need another hero." I decided against the latter — partly because I'm sure other writers have already exhausted it, partly because The Bangles can always do with another shout-out — but in This Our Summer of the Superhero, it'd certainly be apt. With "Green Lantern" following "Thor," "X-Men: First Class" and, earlier, its troublesome near-namesake "The Green Hornet" on the 2011 release schedule, and with "Captain America" still to come, casual moviegoers could be forgiven for wondering if their local multiplex has been part-colonized by ComicCon.
It stands to reason that with so many darts being thrown at the same aesthetic and commercial target, some will hit their mark more squarely than others. If "Thor" managed to widely surpass expectations, the law of averages decrees that at least one of its Spandex-clad rivals will likely fail to meet them — or at least live down to expectations that had already been lowered. Critically, at least, it seems "Green Lantern" is taking that bullet: Kris may have appreciated Martin Campbell's revival of one of the DC library's dustier properties, but the first wave of reviews has been largely dismissive, with even the film's vastly expensive effects work taking a beating from both high-end print critics and more genre-friendly bloggers like Drew McWeeny.
Having entered a screening last night with a day's worth of bad Twitter buzz unavoidably on my mind, I was disappointed but not surprised to find myself siding with the majority. As early as ten minutes in, the film appears to be nervously fighting for its audience, following a murky, po-faced précis of the Lantern legend that newcomers to the franchise (myself included) may find tonally dated and narratively opaque with a smirky, whiz-bang intro to Ryan Reynolds' Hal Jordan, all teeth and manicured swagger and glib 21st-century irony that sits very oddly with the dour, didactic storytelling surrounding it.
It's an early indication of the film's continuing lack of self-assurance, one that betrays a hobbled, multi-handed scripting process. Playwright Michael Goldenberg had the final rewrite, but it's the voice of writer-producer Greg Berlanti, the man once slated to direct the film, that perhaps comes through most clearly: Berlanti is best-known as the force behind such humorless, hug-and-learn TV dramas as "Brothers & Sisters" and "Everwood," and while he's working in wildly different territory here, "Green Lantern" sporadically shares their brand of earnest, old-fashioned moralizing.
That naffness — most evident in draggy space-opera scenes where we are repeatedly lectured on the human race's humble place in the universe and reminded that WILL is a virtue, while FEAR is not — is, I suspect, true to the spirit of the original comic books, which, lest we forget, originated in the war-distracted America of 1940, when this kind of improving gung-ho quality was de rigueur.
A comic-besotted filmmaker could have a grand time emulating that naive boy's-own spirit, but producers — perhaps still mindful of such romantic, backward-looking under-performers as "Superman Returns" and even "Sky Captain and the World of Tomorrow" — are understandably wary of going there, preferring to coat the source in a smooth layer of flip post-millennial disaffectation. The film's Hal Jordan is a cocky, overstimulated manchild in the Tony Stark mold, yet the film's solemn voiceover baselessly informs us that "his humanity [proves] to be his greatest strength." Straddling two eras' ideals of masculinity as well as two worlds, it's little wonder that breezily charismatic star Ryan Reynolds has little idea how to play him.
That split impulse between conserving and updating the source material extends to the film's visual designs, too — early earthbound scenes suggest cinematographer Dion Beebe is experimenting with angular, stylized lighting to reflect the 2D aesthetic of comic-book art, before that notion is drowned in waves of particularly gungy-looking CGI work.
This it's scarcely a half-realized throwback isn't the greatest of the film's problems: there's also the lumpy pacing, key set pieces left unresolved, brazen disregard for its supporting cast (pity poor Angela Bassett, unceremoniously dispatched after some stock government-agent enunciation, but not before an incidentally racist flashback to her ghetto-tragic past), and other issues I'd go into if I felt it was necessary to add another official review to the pile-on. It's certainly, however, the most interesting of them — one that speaks to my own curiosity about how the superhero genre maintains such a stranglehold on studio bosses' imaginations, such as they are.
The Green Lantern brand's loyal pocket of readers (let's respectfully not use the tired shorthand "geeks") would be the first to admit their franchise isn't "cool" in the mainstream sense — even the appearance of Jordan's costume, with its leprechaun-green wetsuit and fey little mask, prompted giggles in the public screening I attended — but the filmmakers and marketers spend an awful lot of time and money trying to convince us otherwise. "Thor," a far more well-executed entertainment that nonetheless wavers with similar indecision between wide-eyed sincerity and self-satire, gets round the obstacle of the unconverted's scepticism by underlining the difference between its hero's world and ours; the them-us divide is a similar enabler in the "X-Men" franchise.
Recent superhero hits with human protagonists — notably Christopher Nolan's revisionist Batman relaunch — have crossed over with non-enthusiast viewers by modernizing both the characters and the rules of their world, in many cases minimizing the fantasy element quite drastically. That approach, too, can be taken too far for many viewers' liking: last year's "Kick-Ass," based on a very recent Marvel property, aimed to woo younger audiences with a relatably ungainly teen hero and contemporary stabs of nihilism and ultraviolence, but failed to find its footing commercially.
There have been enough deserved commercial successes (and equally deserved misfires) within the genre in recent years to suggest that a well-regarded comic-based blockbuster (or something that is just related to one, like "Iron Man 2") will usually find its audience, making enough bank to justify the studios' maintenance and occasional renewal of the attached franchise, as well as the opportunistic hunt for untapped ones — both practices that can be overstretched.
It seems symbolically apt, and strangely poignant, to be having this discussion not only days after the sad passing of Laura Ziskin, the producer whose savvy, well-targeted 2002 relaunch of the "Spider-Man" franchise, along with the 2000 "X-Men," arguably paved the way for the genre's current dominance, but in the same week that the already infamous Broadway musical "Spider-Man: Turn Off the Dark," a particularly woebegone by-product of the trend its source film started, finally opened to critical jeers and certain financial doom.
It'll be interesting to see if "Green Lantern" delivers financially in spite of the savage reviews, some spiteful word-of-mouth and a brand that, however treasured by DC devotees, hardly carries the same built-in pop-culture cachet as a Batman. (I even know a number of people who went to see "Thor" unaware of the Marvel connection, assuming only that it was a direct Hollywood derivation of Norse mythology.)
If it does, studios can carry on uninterrupted, and summers of five or more such movies can continue until audiences give active signals that they should not. If it disappoints, however, the lesson could be that the appeal of such projects is sometimes more niche than producers care to admit; comic readers may be numerous, but they're far from a cinema-going majority. To put it another way, as a friend recently did, "Expecting regular multiplex crowds to get invested in The Green Lantern is a little like expecting Masterpiece Theater fans to flock to an Anne Brontë adaptation" — and in this case, not a particularly good one.
[Photo: Warner Bros.]