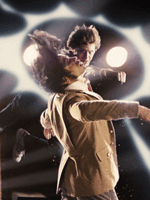 With the big news out of the way, there are a few other annual house-cleaning rule alterations that ought to be addressed.
First up, the Best Animated Feature Film category — which seems to get a face-lift in the rule book every summer — will now have anywhere from three to five nominees. As it was, in a year with 16 qualifying titles, five nominees would be selected. Less than the magic number 16 would yield just three nominees. Now, if 13 to 15 films qualify, four of them will be nominated by the branch. Under that, I'm assuming it's just three as always.
VERDICT: I'm okay with this, I suppose, but the qualifying numbers still feel quite arbitrary. Still, this keep quality-heavy films that happen to be quantity-thin for animated output from being slighted.
Next up, the visual effects branch did some tinkering. Last year it must have been a bit embarrassing for "Scott Pilgrim vs. the World" and "TRON Legacy," which made the bake-off list of seven finalists but missed out on being nominated in the freshly expanded quintet. It just seemed cruel to keep the bake-off. They apparently still want to hold onto it, but will now expand that list of finalists from seven to 10.
VERDICT: Fair enough. Misery loves company, so there will simply be more also-rans in the final stages now.
Finally, the documentary branch has seen the light and shifted its dates for qualification to the calendar year rather than the October-to-October frame. That now matches every other category.
VERDICT: Duh, winning.
And that's kind of how I see the whole announcement. It feels like half-measures here and there, but overall, a step in the right direction. So I'd say it was a progressive off-season for AMPAS.
How do you feel about the Academy's rule changes this year?
[Photo: Universal Pictures]