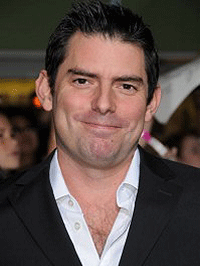 Filmmaker Chris Weitz has taken a ride on a rather inconsistent career path since making a splash (along with brother Paul) with 1999's "American Pie." He followed that raunchy comedy with the critically mauled Chris Rock starrer "Down to Earth" before bouncing back with the beloved intimate romantic comedy "About a Boy." He then fled to the arms of big budget filmmaking with 2007's "The Golden Compass" and last year's "The Twilight Saga: New Moon." This year brings an effort hearkening back to the character-driven work of his early career, "A Better Life," which premieres at the Los Angeles Film Festival next week.
The film could be read as a riff on Vittorio De Sica's "The Bicycle Thieves," though transplanted in Los Angeles with a heavy dose of Mexican-American culture. But it's unfair to hold it up to that agreed-upon masterpiece of neorealist cinema. Yes, the films share some plot details — "A Better Life" tells the story of an undocumented Mexican landscaper who purchases a truck and equipment to start his own business, hoping to make a better future for him and his street-smart son, only to have it stolen — but it is a successful piece of slice-of-life dramatic filmmaking that was a breath of fresh air for Weitz after his blockbuster detour.
"We didn't have the pressure day to day of getting calls from the studio or anything like that because they are, rightly, preoccupied with what was going on with 'Breaking Dawn,'" Weitz says. "It's always wonderful to be the little movie that is being shot while the gigantic movie is being shot at the same studio. I've been in that situation a couple of times. It takes all the attention away from you. You get to get away with a lot more."
With the spotlight shining elsewhere, and with plenty of goodwill coming off his own "Twilight" vehicle (which brought in over $300 million at the domestic box office), Weitz was free to explore terrain he was clearly eager to revisit. Namely, the relationship of a father and his son.
It's a theme very much apparent in 2002's "About a Boy," which starred Hugh Grant as a playboy thrust into the role of father figure. Like "A Better Life," that film is very much about the isolation of the characters, both from themselves and from the world around them. In the latest film, Demián Bichir's landscaper, Carlos, comes from a world back home in Mexico entirely foreign to his son, Luis (played by fresh-faced newcomer José Julián). That disconnect is a thread Weitz knows all too well.
"There is a tremendous generation gap," the director says of his relationship with his own father, a German immigrant. "He was 48 when I was born. It was impossible for me to understand the world he came from, in many ways. So there's an essential gap in understanding that maybe I'm working out in my films, I'm not sure. But at the same time, I certainly don't set out with an agenda through any kind of body of work. It's only post-facto that these patterns begin to emerge."
When Weitz set out to cast his film — originally titled "The Gardener" — he was sure he wanted a considerable level of unfamiliarity.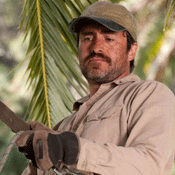 "The whole point of this film is it's kind of about the invisible people in our lives," he says. "It's the people who are trimming hedges or filling up a water glass or bringing your car. So to put someone like Benicio Del Toro or Javier Bardem in that part would instantly, I think, signal to an audience that everything was going to be alright, whereas in this case, you meet somebody for the first time in this movie and it's astonishing how good he is. So we had kind of the double whammy of [Bichir's] technical abilities and his relative unfamiliarity to American eyeballs."
Weitz first sparked to Bichir when he saw Steven Soderbergh's "Che," in which the actor portrays Fidel Castro. He actually called him in to read for the part of the vampire king in "The Twilight Saga: New Moon," largely to check him out for "A Better Life," which was a bit confusing for the actor.
"He didn't know he had been called in to play a vampire gardener or something," Weitz says with a laugh. "He had gotten kind of a garbled message." But Weitz knew instantly that this was his guy, and that he would crank out a portrayal that would connect with the audience in unexpected ways, given his largely unknown status in the States.
Indeed, Bichir's stock is sure to go up after the industry gets a load of his work in the film. He's already a considerable star in Mexico, and for good reason. "He really holds the screen," as Weitz puts it. But the performance he gives in "A Better Life" is strikingly warm and lived-in, nuanced and authentic. Summit Entertainment will be campaigning the actor for year-end awards kudos, and that's something Weitz says he is very keen on pushing, too.
For the part of Carlos's son, Luis, a street-tough kid who doesn't understand the sacrifices his father has made and continues to make and is constantly hounded by the beckoning life of the East Los Angeles gangland, Weitz naturally figured on an unknown as the best recourse.
"When you're casting child actors, you have two choices," he says. "You can either go the route of people that have been produced by the machines Nickelodeon and Disney have established for churning out these child actors. And they're usually very well presented and kind of all-singing, all-dancing, and more power to them, but that's a different kind of performance than what we're looking for here. So really the route is to see if you can find an inexperienced young actor who has this sort of native intelligence and ability to hold it together in front of the camera."
Young actor José Julián comes from a Los Angeles neighborhood very similar to the one depicted in the film. What's more, he had to take three buses for three hours to get to auditions. That he had the charisma to handle the role and the built-in understanding of the terrain, both external and internal (he also comes from a single-parent home), made for a tempting combination.
"Although he's a very different kind of guy," Weitz reminds. "He's a very curious, kind of bookish sort."
Weitz also saw the film as an opportunity to explore his own Latino roots. He and his brother are the first generation of his family to not speak Spanish. His grandmother was Mexican actress Lupita Tovar and his wife is Cuban. But there were unexpected discoveries along that journey.
"At first I thought this was a good excuse to learn Spanish," he recalls. "What I didn't realize I was going to see was an entire world of Mexican culture. There are actually several worlds of Mexican-American culture that exist within Los Angeles, and it's every bit as much Los Angeles as Santa Monica and West LA and the places that people go to service the Anglo culture.
"There is a horse culture of keeping alive here where they came from in Mexico. There is a world of very strong religiosity. There's a world of very strong kind of cultural and culinary concerns in which families live very much out in the open. If you go to Boyle Heights on an average day, you might see chickens just kind of wandering around. Unfortunately there are these gangs that have formed in response to the despair that a lot of Latino youth feel in terms of how the system treats them and in terms of what they think that their prospects are. And they started kind of after World War II, and they have their own traditions, which are hard to break."
But ultimately, the film became a chance to dig into this city which presents dichotomy after dichotomy. Los Angeles, Weitz says, represents both the best and the worst for our country. The best, in terms of the tremendous diversity and the availability of numerous cultures that have come to rest here, and the worst because we drive by those cultures and those people every day. It's a city poorly laid out so that pedestrian life, which is to say life in which you encounter your neighbor and have exchanges with them and get to know them, doesn't really exist. And that, really, gets to the heart of the story he wanted to tell.
"Everyone is constantly in their car, and when you're in your car, you miss a tremendous amount," Weitz says. "People are completely unaware of the person next door, of the person on the corner, of the neighborhood that they're driving through only in a few brief flashes at 40 miles per hour. So I guess part of the aim of the film is to slow down and show a section of our culture, because it's not just Mexican culture, it's American culture."
"A Better Life" premieres at the Los Angeles Film Festival Tuesday, June 21. It opens theatrically Friday, June 24.
[Photos: Gossipcop, Summit Entertainment]