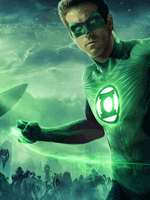 It didn't really hit me how excited I (still) was for "Green Lantern" until the lights dimmed and the green hit the screen. It can't be understated how much of a long-time-coming type of thing this is, a theatrical version of such a vast cosmic comic book creation. And given the mechanics of the world, the amount of digital wizardry needed to conjure it, not to mention some dense continuity that never presented a clear-cut story for the screen, it's understandable that it took so long.
But things started to change in 2004. Geoff Johns, a long-time DC guy who had written on a number of the company's books (and already had a nice film education under his wing from his time as a Richard Donner mentee), started re-tooling the DC universe, beginning with one of his favorite characters: Hal Jordan. The "Rebirth" storyline led into a revitalized line of books featuring the Green Lantern Corps, a more than 3,000-member strong organization of intergalactic peace keepers, with Jordan right in the center of things. The elements Johns began tinkering with and re-envisioning — which were themselves building toward the "Blackest Night" and "Brightest Day" comic events of the last two years — began to reveal a way into the material for the screen. And now, "Green Lantern."
Seven years after Johns began that new architecture, we finally get a film, one that — if you're asking me — nails it about as well as a comic fan could hope for, while also serving as a solid crash-course into the world and presenting the building blocks for an exciting new franchise. I know some might be iffy on "Thor," but as an apologist for that and an appreciator of "X-Men: First Class," I'm comfortable saying "Green Lantern" makes it three-for-three for the comic book brigade this summer.
But I'm likely to be in the minority on this one. The character arc and relationships are a bit soft (suffering under the weight of lots of screenwriting cooks, likely), but I was right there with it the whole way. I'm no life-long fan of the material, mind you. And the Johns stuff is fresh in my brain after digging into it two years back, but I'm just excited these elements finally made it to the screen and landed in a better-than-expected way.
I won't argue with anyone who dedicates over a thousand words to why the screenplay felt dodgy or why Ryan Reynolds seemed to have fizzling chemistry with Blake Lively or why the spectacle overpowered the story. But I'll keep it around 500 hundred short but sweet words and say I thought Reynolds carried the film like a champ. I thought Peter Sarsgaard looked to be having so much fun that there were sparks of a side we haven't seen from the actor (and that I hope we see more of in the future). And I thought the film had a singular identity in a genre flooded with derivation, which is no small feat.
For me, it's great summer fun.
[Photo: Warner Bros. Pictures]