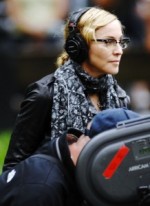 Having done all right with the last film to cover the romantic tribulations of King Edward VIII — it was called "The King's Speech," it won a few Oscars, you might have heard of it — The Weinstein Company clearly feels there's an appetite among audiences for more on that chapter of British royal history, with Edward's story center stage this time.
So it is that that Harvey and his minions have bought the US distribution rights to Madonna's sophomore directing effort, "W.E." — a decades-spanning portrait of the affair between the one-time future King of England and Wallis Simpson, the American divorcée for whom he abdicated the throne, fused with a fictional modern-day story of a young New Yorker inspired by their romance.
Starring Andrea Riseborough and James D'Arcy as the historical couple, and Abbie Cornish as the woman obsessed with their romance, it all all sounds suspiciously like "Julie & Julia" with crowns replacing the chef's hats — which, combined with the novelty factor of the film's celebrity writer-director, leads me to think the Weinsteins may view this more as a light commercial play rather than the hefty awards bait of their last monarchy biopic.
That said, the Weinsteins' production president Donna Gigliotti, herself an Oscar-winner for "Shakespeare in Love," claims to believe that advance footage for the film is "some of the most impressive [she's] ever seen." No release date has been announced yet, beyond the fact that it will hit screens this year.
Not big news, then, though it does raise the interesting question of where the Weinsteins are going to place most of their awards chips this year. At this early stage, their prestige acquisitions slate is looking a little sketchy — "W.E." joins two other British-flavored biopics, "The Iron Lady" and "My Week With Marilyn," both of which look likelier to contend for performance honors only. (For the latter, incidentally, I'm hearing more below-ground chatter about Kenneth Branagh's Laurence Olivier than Michelle Williams's Monroe.) Bulking out the Weinsteins' Brit pack is Richard Ayoade's minor coming-of-age comedy "Submarine" and Ralph Fiennes's "Coriolanus," which I maintain has a formidable Supporting Actress contender in Vanessa Redgrave — but little else.
Until the autumn festival circuit changes the picture — and who knows what hot title the company might attach itself to at Venice or Toronto — their strongest awards shot seems, from where I'm standing, to be their wildest card: Michel Hazanavicius's critically beloved Cannes hit "The Artist." Some might say that a (mostly) silent, black-and-white pastiche from a little-known French director is a dark horse at best for major awards recognition, but the film is more accessible than it sounds: a proven audience charmer, powered by a luminous star turn from Jean Dujardin, that should gain a lot of new fans in Toronto. (Despite reports to the contrary, it's also English-language.)
Before hitting the Oscar jackpot in the late 1990s, the Weinsteins appeared to view each awards season as a kind of challenge to get the unlikeliest-sounding films into the Best Picture frame: be it a gender-bending IRA thriller, metaphor-heavy Antipodean erotic drama, ultra-violent B-movie tribute or a miniscule Italian drama about poetry. "The Artist" is the kind of artsy curio they might have pushed heavily back in that period. If their 2011 slate remains free of surefire bait, it'd be interesting to see them return to that kind of resourcefulness — unless, that is, bringing the phrase "Academy Award-nominated filmmaker Madonna" into existence doesn't sound like a more appealing test.
[Photo: OK!]