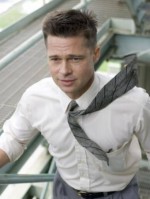 First up, some good news for our British readers: the distribution wrangles surrounding "The Tree of Life" have been resolved, and Fox Searchlight will bring the film to UK screens on July 8. Not much longer until you can join the conversation.
Given Terrence Malick's usual work rate, it feels almost perverse to begin talking about his next film while his current one is still in theaters, but that's precisely what his new go-to cinematographer Emmanuel Lubezki does in a fascinating Sight & Sound interview.
So far we know little about the untitled work, already in post-production, beyond its all-star cast of Ben Affleck, Javier Bardem, Jessica Chastain and Rachels Weisz and McAdams, but Lubezki reveals this much: if you thought "The Tree of Life" was esoteric, you ain't seen nothing yet.
He tells Geoffrey Macnab:
We shot The Tree of Life four years ago. We've shot another movie since — it's even more abstract. It doesn't have a title — we call it 'Project D'. If The New World was a more narrative movie and The Tree of Life was a less narrative movie, this one is even less so. It's been great for me to be able to watch Terry evolving in this way.
Bring it on. Even if I retain some qualms about his latest film, that's not to say it wouldn't be a thrill to see him push his avant-garde instincts as far as they can go — hopefully with a guarding distributor as permissive as Searchlight. When we'll see the next stage in the director's languid evolution is open to question — the prospect of two consecutive years with a new Malick unveiled is hard to imagine, and there's no prior evidence to suggest he won't fancy taking another four years over this one.
Meanwhile, with Malick maintain his usual silence, the Lubezki interview offers some of the clearest perspective yet on the production process behind "The Tree of Life." I particularly liked his observation of the initial discord between Malick's highly intuitive shooting style and Brad Pitt's more disciplined regime:
For Brad Pitt, it was the hardest. When he came to the set for the first time, it reminded me of how I'd felt felt on set with Terry for the first time [on The New World]. Sometimes I would be preparing a shot with 50 extras and Terry would say, "Oh look, the wind is blowing in those trees. Let's run down and bring Pocahontas." I'd say, "We've got 50 extras!" He'd say, "Who cares!"

[On The Tree of Life] Brad was trying to understand why we were not doing coverage in a conventional way. As an actor, he does the first take thinking there is going to be asecond and a third and a fourth, and maybe he can get better or do something different. He realised he had to work in a different way — it took a little while.
As usual with Sight & Sound pieces, it isn't yet available online (in months to come, this will be the place to look), but it's well worth seeking out.
[Photo: Fox Searchlight Pictures]