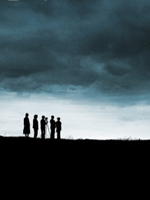 Where to begin on "Super 8?" It's so clearly the kind of film directors tend to make, unmolested, after a major hit, the kind where someone really needed to be pulling the strings and smoothing the edges and seeing the forest through the trees. "But I'm J.J. f***ing Abrams." (I'm sure he's a splendid chap.)
It's a nostalgia wank, but you already knew that. I find myself wondering if the pitch meeting was little more than Abrams promising Steven Spielberg that the famed director's oeuvre would be all but gilded and bronzed right there on the screen. But that can be forgiven…if there's a story.
And there's not. Well, there's not a complete story. There's a lot of mayhem that feels injected into a coming-of-age yarn that itself needed some tinkering, and then there's a climax that is meant to bring it all together, but ultimately whiffs worse than Begbie's scratch in "Trainspotting."
The "script" for this film is like a frame made of fishing wire, so flimsy the high concept stuff (which definitely could have used some more time in the oven) weighs it past the breaking point. I found myself looking for reasons throughout to just forgive the film its hastiness because there is some great child acting on display, some genuinely visionary filmmaking craft and an overall vibe I wanted to submit to.
But that climax. God. It might be one of the worst-conceived in a film of this sort. Sinks the whole ship. Reveals the stark-naked emperor.
What's really unsettling is that the nostalgia thing — which could be on the dangerous precipice of becoming a trend — begins to feel exploitative after a while. When I saw an arbitrary Batman poster on a character's wall, I started to wonder if Abrams has simply found the pulse, picked his spot and mined the flow. He might be a legitimate geek, but he also knows how to push the right geek buttons, whether they're organic to his story or not.
I was going to get into spoiler stuff, but I can't really drum up the interest to do so. There are so many unmotivated instances ("We have to get to the cemetery! Let's go through this neighborhood so we can have an out-of-place set-piece and go into this house because we're seeing all these other houses get destroyed!"), so much potential squandered (the central puppy-love story betrays Elle Fanning's clear talent by establishing her as little more than a cipher — and don't get me started on Coach Taylor) and such an undercooked narrative that it's kind of depressing to wallow in the specifics.
(On the lens flares: I dug them in "Star Trek." They served a purpose in that film, i.e., to give the impression that there was always something exciting happening just off screen. It was thoughtful. Here, they're borderline self-referential, and simply don't make stylistic sense.)
Ultimately I think Abrams might have done well to cut back on the sci-fi "bigness" of this project, accoutrement that literally serves no thematic purpose, and scale it back to his interesting characters and how their lives play out in this sort of Stephen King-like community. But the movie is what it is, and despite being a spectacle film that will draw attention and ought to have redeeming characteristics in that vein, I would have a hard time recommending "Super 8" at all. It's far too unsatisfying on even the most basic storytelling level. It might not be a bad film (though I wonder), but it's definitely not a good one.
(Readers who will no doubt ask about Oscar potential: It'll be in a contender for Best Sound Editing, Best Sound Mixing and Best Visual Effects. Some consideration might circle Michael Giacchino's score. I would discontinue talk of anything else whatsoever.)
ADDENDUM (6/10): The comments section indicates the level of umbrage some took with my perspective on this heavily anticipated film. I'm sensing that something I originally felt didn't need saying, probably needs saying after all: I welcome any filmmaker's vision that attempts to draw a line of tangible emotion through what would otherwise be little more than an entertainment. J.J. Abrams has succeeded in at least sparking that rarity this summer, and maybe others will look to this example — however not-quite-there I might believe it to be — as inspiration to go there, too. It's a business of dollars, but I honestly believe it's also a business where good intentions are more often there than not, so while I'd actually pay for a summer without something like "Pirates of the Caribbean: On Stranger Tides," I'd equally pay for a summer WITH something like "Super 8."
[Photo: Paramount Pictures]