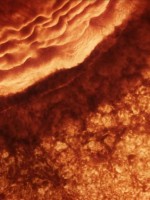 Kris already acknowledged the disproportionate number of Malick-related posts on the site of late, but it's not often one gets a conversation piece of this magnitude landing in the early summer schedule, so we're just going to roll with it. (The film would no doubt have been a big deal in any season, but Fox Searchlight's decision to dodge the autumn prestige deluge with an immediate post-Cannes release is proving rather wise in terms of publicity gained.)
Anyway, I was drawn to this Fandor piece about the influence of experimental cinema on Malick's Palme d'Or winner, most evident in the early 20-minute sequence that maps out the earth's evolution. Along with several other critics, my review noted echoes of Godfrey Reggio's landmark 1982 tone poem "Koyaanisqatsi" in the sequence, but it appears that some lesser-known experimental films played a more direct role in its creation.
New York-based Scott Nyerges, whose avant-garde shorts haven't been seen much outside the festival circuit, was approached by Malick's production company for permission to license 12 seconds of his 2008 short "Autumnal" (embedded after the cut).
Whether or not that footage actually appears in "The Tree of Life," or merely inspired other imagery, is unclear from the article — one still from "Autumnal" was, however, filched for the film's much-admired mosaic-style poster. Nyerges acknowledges that he wasn't the only artist of his ilk approached by Malick's team, and is tickled by the big film's hat tip to his branch of filmmaking:
[It's] an ambitious, lyrical, visually beautiful work. I give Malick credit for doing something very brave – essentially dropping a 20-minute experimental film in the middle of the narrative. The techniques and tropes he incorporates call to mind the work of Jordan Belson, the cinematography of Koyaanisqatsi and the telescopic images of the Hubble Telescope. And I confess to the thrill of watching and waiting to see if… yes! no! wait… yes!… I could spot my small contribution to this film.
Chalk up another reason why, even as someone not wholly sold on "The Tree of Life," I'm eager to see it again. (Though with the film still in UK distribution limbo following Icon's failed bid to release it prior to Cannes, it's anyone's guess when that will be.)
With the publicity-shy Malick choosing to let his film speak for itelf, it's up to others to identify his creative influences. (You may recall an argument between Kris and Anne Thompson on our recent Cannes podcast, over to what degree the film riffs on "2001: A Space Odyssey.") A recent LA Times profile reminded us of the director's unlikely admiration for Ben Stiller's "Zoolander" — a love you know I totally share in. Maybe that'll show up in his next film.