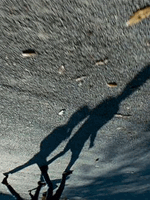 Yes, yes, more talk on "The Tree of Life." I'll be honest. I'll be surprised if there is a film that occupies the space of "best" in my consideration of 2011's film offerings, not to spoil the end of year shenanigans or anything (though one never knows what can happen to perception over the next six or seven months). It's such a rich, rewarding, flawed, imperfect, real experience. I cannot wait for a third viewing.
In the meantime, I delighted in digging into Anthony Breznican's lengthy deconstruction of the film over at Entertainment Weekly. Interestingly, he draws a lot of the same interpretations I did when I wrote about the film in depth last week, and he notes that in conversation, despite a heavy consideration of "subjectivity," many viewers are coming away with similar interpretations about this or that. Chalk it up to one more note of universality in Terrence Malick's latest.
The piece is naturally full of SPOILERS, as Breznican tackles (with what he self-deprecatingly calls "hack analysis") the entirety of the film, beginning to end, and turns up some interesting bits of insight. I was personally fascinated by his takeaway on water imagery in the film.
I mentioned a waterfall refrain in my piece that I couldn't quite place. Breznican sees it as an extension of character and emotion:
[Mr. O'Brien] stands by, clutching a hose — but it's what he's doing with the hose that is noteworthy. The water is running, but it's not flowing out. He has it bent in half, kinked shut. Symbolic? Of course! His wife clearly needs some comfort, but he has pinched his emotions shut just as surely as he has the flow of water from that hose.

Near the end (of the movie, but many years before the scene with the kinked hose) when the father is truly laid low by failure, he has a heart-to-heart with Jack, apologizing for his harshness, saying he isn't proud of it, and explaining why he wanted to make the boy tough. In that scene, the only one where he truly lets his feelings out, the hose is also present, hooked up to a sprinkler that is gushing, sending a plume of water into the air, and scattering it wide…

Not only that, but in moments of extreme emotion, Malick flashes to images of a powerful, crashing waterfall. A little obvious? Maybe. But in a movie about life, what better to stand in for the emotions we keep secret than water, without which this world would be as barren as its neighbors in the solar system?
Don't let anyone try to diminish the notion of seeing this film multiple times. There are, quite simply, pieces of work that are complex in their simplicity, and looking between the layers can be as rewarding as the initial, powerful emotional takeaway. Breznican wrote his piece after a second look and, I imagine, could write as many words after a third.
Read the rest here.
[Photo: Fox Searchlight Pictures]