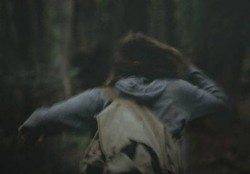 [Apologies for leaving my Cannes coverage in limbo as I unwound in Paris before returning to London housekeeping. A handful of films from my festival viewing roster are still owed some discussion in grouped capsule form, and I'll get to those this weekend — hey, the films aren't going anywhere, so why stick to the parameters of the festival diary? I'll begin, however, with the last of my individual reviews from this year's Cannes, and the last of my three four-star finds of the fest.]
Elizabeth Olsen's face is an ellipsis, a perturbingly lovely marker of concerns unspoken and unresolved, in writer-director Sean Durkin's "Martha Marcy May Marlene," a sharp blackberry winter of a debut feature that perhaps invites a re-evaluation of how we define the modern horror film. Little happens in the course of Durkin's curtly time-shifting narrative that is definably horrific, yet the constricting rhythms of the editing combine with the between-the-lines anxiousness of Olsen's performance to instil a kind of objectless dread in the audience, playing their preconceptions of the film's sensationalistic subject matter against its own craftier revelations. Watching it, in short, feels like being slowly strangled from behind.
It's indicative of the film's sly, secretive construction that the four names that make up its misleadingly cosy title refer to one character alone: a reedy, malleable young woman played by Olsen (yes, the more striking little sister of those twins), whom we meet in the midst of a frantic escape from the Catskills commune in which she has been ensconced for the better part of two years.
Durkin is stingy with details as to why and how Martha (her Christian name, gradually ceded to involuntary aliases) joined the group, though much of her motivation is implicit in the present-day scenes that find her seeking refuge with her married older sister Lucy (the excellent Sarah Paulson, her onscreen stance that of a soured Julia Roberts), a patient, rigidly sensible figure whose bewildered concern over Martha's unexplained return to the fold gradually betrays a lifetime of sisterly disconnect. Any further family connections are absent without comment: in one scene, Martha casually but tellingly addresses Lucy as "mom." These two women seem no less distant together than apart, though the film's tender depiction of their attempted reunion underlines the messy human truth that estrangement doesn't preclude caring.
Durkin nibbles away at the film's core enigma from both ends of his timescale. It's difficult to mark the precise point at which Martha's adopted family (led by the oily-earthy John Hawkes, so good at negotiating reptilian, half-closed characters) crosses the line in our perception from eccentric commune to dangerous cult, though its dated laws of gender (whereby the womenfolk sleep in a single room, and may partake in meals only once the men have finished eating) strike a sinister note from the outset. The film deftly keeps in play the question of how severely Martha's psyche has been ruptured by the group's influence. When Lucy and her prissily perfect British husband (Hugh Dancy) express outrage over her inclination to swim in the nude, they appear to be the ones overreacting; by the time Martha is crawling into the marital bed as they have sex, more deep-seated damage is evident.
The second half of this deceptively tight two-hour film intricately braids Lucy's growing fear for (and even of) her sister with a feverish paranoia on Martha's part that may or may not be justified, as she imagines that the commune is out to reclaim her — the gasping, Polanski-channelling crescendo is as nakedly frightening as anything Amerindie cinema has accomplished outside genre lines. Durkin artfully manipulates suspense by crossing time planes with swift, simple cuts that don't always immediately assert their place on the film's chronology: the sense of Martha's past mentally bleeding into her present could hardly be more elegantly conveyed.
The film's driftwood palette and serene lensing, meanwhile, brilliantly counter the interior agitation at work here. Rising cinematographer Jody Lee Lipes (handily trumping already impressive work on "Afterschool" and "Tiny Furniture") performs ingenious compositional trickery here with shadows and profiles in the present-day scenes, but lights the Catskills sequences with a hushed romanticism that recalls the pastoral East Coast eeriness of Andrew Wyeth — the painterly effect further teasing the boundary between 'affectedly precious' and 'nastily antisocial' in the commune's goings-on. The low industrial hum of the score passes no judgment.
With filmmaking this rigorously ambiguous, it falls to the tremendous Olsen to prevent the whispering drama from drifting into opacity; though she stops short of rendering Martha (or indeed Marcy May, the rechristened figure she plays in the commune) knowable, she cuts through the young woman's shroud of taciturn uncertainty with direct, palpable desperation to convey what she knows will never be understood. Her intelligently measured performance (hopefully, the eventual crux of a Fox Searchlight awards campaign for this prickly prospect) is our closest ally in penetrating the very dark heart of "Martha Marcy May Marlene," but Durkin's cool control of proceedings, down to his perfectly timed final shot, ensures some cruel part of it rightly eludes us.
[Photo: Fox Searchlight]