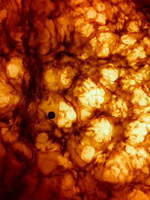 If you've been fortunate enough to catch Terrence Malick's "The Tree of Life" in its limited release already, don't forget to tell us your thoughts in the reactions thread.
I've written about the film at length once (during a lunch break at jury duty downtown after sleeping on it). Guy reviewed it in full out of Cannes, where the film walked away with the Palme d'Or, and we dedicated an edition of The Lists to Malick's work earlier this week. But I wanted to include a separate space for spoiler discussion, as I've had a chance to re-visit the film and taken some time to mull over its particulars more over the last week. I guess I just really wanted to write about it again.
So, if you want to stay pure, I suggest staying out of this thread. I'll be digging into specifics of narrative and theme that you'd probably rather avoid. Or maybe you'd like to digest every morsel you can in preparation. Fully up to you, but the warning is there. SPOILERS follow…
I figure the best way to come at this is beginning to end, as it comes to me. So forgive the rambling, but I'm kind of delighting in navigating the various hills and crevices of this work.
The first thing that struck me on second look was that the film is very much about contradiction. You'll recall I noted in my initial take that I felt it dealt with the idea of nature AND grace as opposed to nature VERSUS grace. The opening narration of the film notes that you have to choose which path you'll take through life, but I don't think Malick ever fully damns one path over the other. Each has its virtues and, in the end, the discovery, the revelation, is that the synergy of both can't be avoided.  Indeed, "fierce will" and "love" are equally important.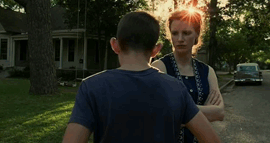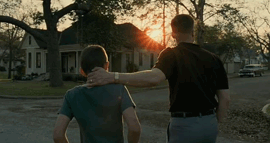 The first section of the film conveys a death in the O'Brien family, the middle brother, R.L., played in youth by Laramie Eppler. (Eppler, by the way, was actually Malick's second choice for the role of Jack, the oldest brother and the character I'd call the lead of the piece). A telegram is delivered to Jessica Chastain's Mrs. O'Brien. The visceral nature of her performance in this instant, that guttural agony, is wrenching.
Subtle visual cues tell us it's probably later in the 1960s when Mrs. O'Brien gets the telegram and calls her husband with the news. Soon enough it's settled when we're told, through narration from the adult Jack (played by Sean Penn), that R.L. was 19 when he died. It's interesting because it's a time uncovered elsewhere in the film. I suppose there is footage lying around that carried into the 1960s, but Malick has left us with this abstraction, and it could be better for it.
In any case, R.L. is depicted in youth as the more docile of the two brothers (while a third brother is largely left on the cutting room floor, it appears). "You callin' me a liar," Jack asks him in a random bit of provocation (which signifies his own aggressive maturity). "I don't want to fight," R.L. replies. "You scared?" "No. Just don't want to."
We can probably assume, given the telegram and the era, that R.L. died in Vietnam. If you roll with that, then it's fascinating, I think, the juxtaposition of the docile brother with the violent death. A waterfall visual is used twice in conjunction with R.L.'s death, however. Another well to drill.
Flash forward some 40 years to an adult Jack (played by Sean Penn), morose on the anniversary of his brother's untimely demise. Now a successful Houston architect, Jack and his world are now filmed in very different ways. Quick, jarring pans capture the character and the modern industrial landscape, rigid lines define the design, glass and metal seem to cage the world. Indeed, the only trees in sight are the ones inside buildings. Nature has given way to the fierce will of man's industrialization.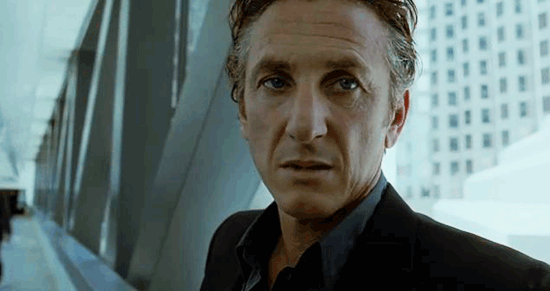 After carrying through these two brief passages, some 20 or 25 minutes into the film, Malick then takes us on his cosmos sequence, right on the heels of a bit of narration from Mrs. O'Brien asking God of her son's tragedy, "Where were you?" (This echoes an opening quote from the Book of Job in which God asks the same question, demeaningly, of Job, vis a vis the creation of things much greater than his inconsequential existence.)
And Malick shows us. He shows us the creation of a universe, an epic big bang and the creation of protostars — which will eventually become suns — and the fiery, magma-laden beginnings of the earth itself.
Millennia go by as the land eventually summons the bio-evolution of species. Amoeba and bacteria first appear, then more advanced water-based lifeforms. Soon, they make their way to the surface and, eventually, the land, where a giant plesiosaur inspects a gashing wound, presumably inflicted by a hammerhead shark, given the juxtaposition of images.
Next comes the much-discussed dinosaur sequence, a brief but meaningful beat as a raptor-like creature (I'm unsure what it is specifically, and Malick reportedly made it a point to choose less-identifiable dinosaurs) exhibits compassion for another. And just as this crucial evolutionary bridge is crossed, Malick cuts to a beautiful shot behind the on-coming asteroid that will wipe out nearly all life on the planet, including these creatures at the top of the food chain. Fascinatingly, Malick films the asteroid's collision with earth not in apocalyptic, epic proportions, but in matter-of-fact reserve, almost as if to emboss his point that this, too, is inconsequential in the great ether of things.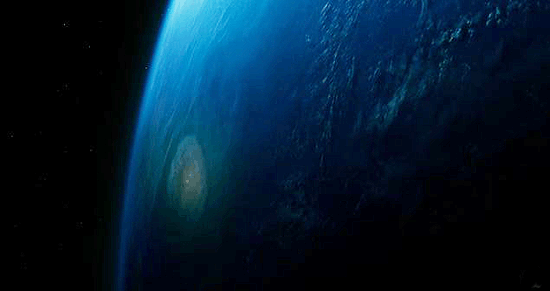 And so the indication is clear: the Lord (whatever that might be) giveth and the Lord taketh away. The death of R.L. is indeed a tragedy, but here we see the evolution and destruction of an entire ecosystem, one that came and went long before humans, indeed, long before what came BEFORE humans, and certainly before the O'Briens and their plight.
With this in mind, I come to my ultimate takeaway from the film. "The Tree of Life" does something entirely necessary: It makes us feel small. That pause and consideration of our triviality is a deep breath worth taking in this day and age.
The film then moves on to finish the story of the O'Briens. The father raises his children as he sees fit, the mother as she sees fit. Yin and Yang, fierce will and love, nature and grace. And in Jack, the collision of it all as his innocence slowly slips away, as it always does, as it must.
The story of this family I could watch on loop. I could even watch it progress through the decades. It is expertly revealed and the textures are so authentic that it's paralyzing. It is, in so many words, some of Malick's most truthful work as a filmmaker.
Unfortunately for "The Tree of Life," the film is at its weakest in its final moments. To say the least, it must be difficult to put a cap on this ambition, but it slips away from the director as he tries to reconcile everything with a not-all-that-compelling vision of the afterlife.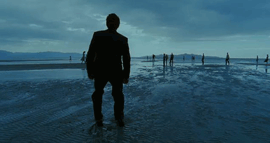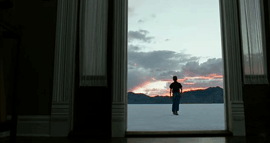 This sequence does have some good ideas, however. There is something therapeutic about finally seeing the adult Jack (Penn) share the screen with his father (Pitt). But nothing really feels resolved, even as Mrs. O'Brien cryptically concedes her son (presumably R.L., though perhaps Jack) to the higher power. It would be one thing if lack of resolve was a point, but there is clearly an intention to be definitive at the end, and I believe something is lost.
The film closes on a shot of a suspension bridge. Why? I find myself wondering. Is it commentary on connectivity? Is the "water under the bridge" more important, symbolically, than the bridge itself? Perhaps. I'm unsure.
Some have taken issue with the entirety of adult Jack's world and its usage in the film. I feel it makes sense early on, as depicting a man still grieving for a loss needed to be presented in order for the point to be made shortly thereafter that all this pain and grief and tragedy is but a blip on the radar of time. But I confess that it doesn't work as organically at film's end, and the scars of a considerably larger plot line are very much apparent.
Nevertheless, many of my conflicted feelings were smoothed out on a second viewing. So perhaps I'll find something to take away from the denouement upon further re-visitation. I welcome the prospect, to be truthful.
"The Tree of Life" is likely to remain unmolested at the top of the year's most thoughtful and thought-provoking cinematic studies. Regarding Oscars (covered at length here), I think by year's end, Brad Pitt and Emmanuel Lubezki could be the film's lone representatives (joined, perhaps, by the visual effects supervisors). But regardless of that, I still say bravo to Fox Searchlight for taking it head on, a film that isn't likely to generate much revenue at the box office and will be a tough sell to traditionalist Academy types. It shows they care, and we could use a lot more of that out of the Hollywood system these days.
[Photos: Fox Searchlight Pictures]