Cannes Film Festival
It's not often that opening credits as hideous as the ones in "Drive" — hot-pink cursive squiggles of the kind favored these days only by nail bars in suburban strip malls — are a reassuring omen for the film to come. But Nicolas Winding Refn's beautiful, bolt-from-the-blue genre trip is a kind of snazzily dressed, testosterone-enhanced bag lady of a movie, one that gathers all manner of tossed-out debris from the Hollywood scrapyard to demonstrate its continued usefulness.
Accompanied by the irregular heartbeat of Cliff Martinez's throbbing synth score, those lurid credits are the first clue that we're in contemporary period piece territory: "Drive" may be set in modern-day Los Angeles, and its measured but grotesque bursts of violence may make use of our Tarantino-elasticated cinematic sensibilities, but in all other respects Winding Refn is partying like it's 1985.
Based on American pulp merchant James Sallis' short, sharp 2005 novel of the same title, the laconic tone and clean structure of "Drive" nonetheless feel adapted more from cinema itself, and not merely from films that share its 80s-pop mood board. The Michael Mann of "Thief" and the William Friedkin of "To Live and Die in LA" may be obvious touchstones here, but so are 70s-era Walter Hall (most obviously the similarly titled and plotted "The Driver") and even the hard 1960s strut of John Boorman's "Point Blank."
Anyone puzzled by the presence of "Drive" in the granola-heavy arthouse lineup of this year's Cannes competition need only look at the esteem in which the French hold this strain of American genre film to understand. Not unlike the festival's other terrific nostalgia piece, Michel Hazanavicius' expert silent-cinema homage "The Artist," this is very much a European's interpretation (and, indeed, interpolation) of the Hollywood output that led him to filmmaking in the first place. Winding Refn has shown vigorous (if sometimes over-egged) postmodern styling chops in such films as "Valhalla Rising" and the "Pusher" trilogy, but "Drive" is his most disciplined, and consequently most rewarding, neo-genre outing to date — he knows as well as we do that the success of a hard-boiled modern noir lies not just in the economy of its words, but in the accompanying selectivity of its shot-making.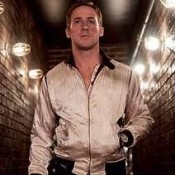 Working from a sanded-to-bone script by British-Iranian writer Hossein Amini (Oscar-nominated for a rather different feat of spare adaptation, "The Wings of the Dove," in 1997) that doesn't mistake terseness for lack of humor, Winding Refn doesn't push his audience into the head space of Ryan Gosling's nameless protagonist, a gifted Hollywood stuntman who moonlights as a getaway driver for assorted underworld kingpins.
A wordless, heart-in-mouth sequence mapping out one of Gosling's night jobs in real time conveys everything we need to know about the knife-edge basis on which he lives his life, and the unspoken thrill he gets from it, while a single mutual glance at Carey Mulligan's young, put-upon mom-next-door points to matching internal absences without any need for a meet-cute. Later on, an ingeniously blocked and shot scene where Gosling dispatches a thug before Mulligan's astonished eyes — soon to be cemented in film-geek parlance as "The Elevator Scene" — brilliantly conveys the involuntary overlapping of his two carefully separated worlds, and her simultaneous terror and arousal at being made party to it.
This kind of tightly packed scene construction requires Winding Refn to put his wilder visual instincts on a leash, even as Newton Thomas Sigel's camera works up some of recent cinema's most artfully saturated images in the much-derided teal-orange color scheme so beloved of latter-day action directors The shooting itself, however, is notably straightforward, recalling a mostly bygone tradition of movie pulp when the big action set pieces served the narrative, and not the other way round.
Winding Refn has enough confidence in the urgency of his film's tensest set pieces to shoot them in long, pragmatic takes that run counter to the prevalent current practice of chopping action up into kaleidoscope shards. It's worthwhile comparing the film to Justin Lin's preposterously entertaining car-chase extravaganza "Fast and Furious," which relies solely for effect on the physical extremity of situation entered, before outdoing itself to show us said situation from every available angle; "Drive" is far more concerned with conveying the continuous subjective experience of the driver himself, right down to the internalized sound design that repeatedly amplifies the creak of Gosling's leather driving gloves to near-fetishistic levels. (The film's preoccupation with throwback simplicity extends to its weaponry, too — amid the many requisite guns, it's nice to see one director appreciates the good old-fashioned virtues of the humble hammer.)
In Ryan Gosling, Winding Refn has found the ideal actor to complement his film's cool, unhurried construction: speaking only as necessary and moving with wary, heavy-lidded stealth, like an agile tomcat still shaking off an afternoon nap, he's every bit the McQueen-style leading man who lets the action come to him. Loosely sauntering through scenes in jeans and a dirty Henley, the actor has never been as sexy or as airily funny as he is here — "Want a toothpick?" is his character's idea of small talk. It's the kind of anti-personality performance that could finally send his star stratospheric.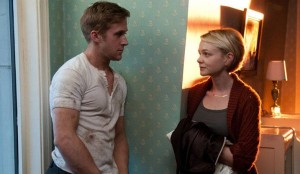 He's surrounded by a resourcefully, often counter-intuitively, selected supporting cast. Bryan Cranston isn't the first person you'd think of to play a scuzzy, tattooed garage-owner, Albert Brooks (replacing Refn's first choice of Alan Arkin) even less so as an oily movie producer turned heavy, yet they're both a delight to watch.
Brooks, in a performance I'm going on record as predicting for a Best Supporting Actor Oscar nod, appears to playing Albert Brooks as Harvey Keitel as the proprietor of a BMW dealership, and is particularly riotous.
"I used to produce movies in the 80s," Brooks smarms, in the film's most self-relexive line. "Kind of action films, sexy stuff… one producer called them European." The irony has not escaped Winding Refn that he himself is making one of those movies, though with a more expansive frame of reference, the finest layer of B-movie grime that time and money can buy, and a narrative propulsive enough that the film needn't only be watched through quote marks. Made through the prism of two eras, operating both as sophisticated cinematic love note and fundamental fuck-yeah entertainment, this sleek, sinuous film is the best kind of nostalgia exercise: one that marvels at the movies that bore it, while stirring excitement for the future.
[Images: FilmDistrict]