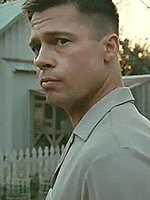 With "The Tree of Life" winning the Palme d'Or in Cannes today, Oscar talk has already swelled on Twitter (after whispered considerations in the wake of the premiere last week). I'll be writing about the film again next weekend, when some of you will be able to take a look, but for now, I thought I'd speak on this.
As we mentioned in the podcast Friday, I think Searchlight picking this demanding film up was an admirable move. It's relationship-building with an important filmmaker (who has another film on the way, mind you). And its best chance at bringing in money was a counter-programming maneuver in the summer.
But I don't think this was ever considered a major awards threat, to be honest. I can't imagine anyone watching it and expecting Academy types to embrace it. And I don't think today's unexpected award (Guy was hearing the only major fan of the film on the jury was Olivier Assayas) changes things.
The Palme means very little for Oscars. The last winner of the award to get a major breeze in its sails was Roman Polanski's "The Pianist," which was already a soft Academy lob. Foreign winners have generated steam for nominations in the Best Foreign Language Film category, but that's about it, with everything from "Elephant" to "The Wind That Shakes the Barley" failing to translate this niche attention to commendation from a broader group like the Academy. There are possibilities, however.
First and foremost is Emmanuel Lubezki's lush, naturally-lit cinematography. It has to be a given with that branch, though not likely a huge threat to win (depending).
Next is Brad Pitt's performance. This could prove to be an unnecessary conundrum and I hope Searchlight wises up and plays the right card from the beginning. Hunter McCracken is the true lead of the field. The story is his, and even with multiple narrators, it's largely from his perspective. What Pitt does is deliver a robust, powerhouse supporting performance.
Everything is reactionary to it. We don't get inside his head until a brief interlude late in the game, but beyond all that, there is a real chance to get him some notice in the supporting field, and therefore, bring some more real attention to the film itself. Campaigning him as a lead — especially with "Moneyball" still to come — would be a mistake, in my opinion.
Finally, given the expanded field last year, I think the visual effects could find some love from that branch. I can see the sequences blowing away a lot of frivolous, fakey effects work when the seven finalists have their screening event later in the season. But it could go either way.
I don't expect much outside of that. It would be great to see an intrepid directors branch spring for Terrence Malick. It would be lovely if the film found enough focused support from the Academy at large to nail down one of the 10 Best Picture slots. And it would be even more delightful if the sound engineers sparked to the impressive mixing and editing on display, particularly in that effects sequence. But I'm extremely doubtful.
As for Best Original Score, I think Alexandre Desplat (who himself was saying early on not to expect huge things from his work in the film) will be disqualified. The original material is great, but it was snipped up and used as Malick saw fit, while classical music takes up most of the soundtrack and will potentially be seen as diluting Desplat's contribution.
So my takeaway on the film's Oscar prospects: Best Supporting Actor, Best Cinematography and Best Visual Effects. And I think that would be more than anyone would expect a film like this to receive, so I'd personally see it as a win.
Let's see where things go from here. There's a very long road ahead. Time will tell if "The Tree of Life" soon joins the ranks of "The Pianist," "Secrets & Lies," "Pulp Fiction," "The Piano," "The Mission," "Missing," "All That Jazz," "Apocalypse Now," "Taxi Driver," "The Conversation," "MASH," "Marty" (the only film to win both the Palme and Best Picture) and "Friendly Persuasion."
[Photo: Fox Searchlight Pictures]