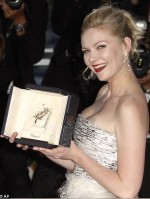 And so it came to pass that the pre-festival bookies' odds were on the money. The most talked-about film at this year's Cannes Film Festival, Terrence Malick's "The Tree of Life," was handed the Palme d'Or by Robert De Niro's jury — a major vindication for a film that has been labelled both a masterpiece and a failure by duelling factions of critics on the Croisette.
Malick, to the surprise of precisely nobody, did not pitch up to the ceremony, though I imagine he's feeling somewhat relieved. However it performs outside the insular festival environment, his film's cultural landmark status has been sealed: armed with this prestigious bit of hardware, Fox Searchlight can set about readying the film for the US awards season, though approval from more mainstream bodies could yet be an uphill battle.
"The Tree of Life" isn't the film I would have picked for the Palme by a long shot — as I wrote in my review, I think it's an intermittently stunning work that ultimately overreaches, never marrying its three disparate sections — but it's not an unintelligent pick: De Niro and his fellow jurors have opted for the title that looks likely to have the longest shelf-life in popular culture. In that respect, it's a preferable choice to the film widely viewed as the favorite going into the awards tonight, Aki Kaurismäki's charming but wafer-thin comedy "Le Havre" — which, in the evening's most surprising turn, won not a single prize.
Jury support was evidently split across several films, as two critical favorites tied for the runner-up Grand Prix: Luc and Jean-Pierre Dardenne's "The Kid With a Bike" and Nuri Bilge Ceylan's "Once Upon a Time in Anatolia." This is the second time Ceylan has fallen just short of the Palme: "Distant" took the same prize in 2002. I'd have preferred to see his film, a beautiful, slow-burning police prodecural that has grown on me over the past two days, take the award on its own — the Dardennes' film didn't strike me as one of their finest. It's worth noting, however, that not one of their five Competition entries has left the Croisette without a trophy.
Both awards were broadly well-received in the press room; less so was the Jury Prize for the clearly overwhelmed actress-turned-filmmaker Maïwenn, whose messy but sporadically riveting ensemble police drama "Polisse" was another of the Competition's more divisive titles.
By far the most enthusiastically greeted winners in the room were also the ones that gave me the most pleasure. Danish genre stylist Nicolas Winding Refn was a very fresh choice for Best Director; his smashing US car-chase thriller "Drive" would have been my personal choice for the Palme d'Or, though it's enough of a victory that a fizzy commercial film this far outside the festival's usual arthouse box took a major award. With any luck, the film's surprise hit status on the Croisette will encourage festival director Thierry Fremaux to promote more quality genre fare to Competition status in future.
The acting awards were also well-judged. I'm thrilled for French actor Jean Dujardin, whose inspired comic turn as a silent film actor in Michel Hazanavicius' delightful pastiche "The Artist" announced the arrival of a major international movie star. It'll be interesting to see how The Weinstein Company, who snapped up US rights to the film, build on this success, if at all — eccentric one-off that it is, this is one Cannes title with genuine arthouse-crossover potential.
As I suspected, after the Lars von Trier controversy that dominated conversation in the festival's final week, the jury indirectly expressed their support for the filmmaker by handing a well-deserved Best Actress award to "Melancholia" star Kirsten Dunst. (It's the second time in three years the Cannes jury has chosen this method to close the book on a Von Trier scandal: Charlotte Gainsbourg won the same award for "Antichrist" in 2009.) It's a proud moment for Dunst, who really does career-topping work here, though I'm guarded about the possibility of future awards traction for the performance.
In any event, Dunst's win ensured that Cannes ended with both its twin lightning rods rewarded; it's an appropriately flashy conclusion to a festival that handily outdid last year's, both in terms of conversation points and valuable films. This, however, isn't the end of my coverage — I'm off to Paris tomorrow morning for a brief unwinding period, but I'll have a couple more review pieces in the next few days.
Full list of Competition winners:
Palme d'Or: "The Tree of Life," Terrence Malick
Grand Prix: (tie) "The Kid With a Bike," Luc and Jean-Pierre Dardenne; "Once Upon a Time in Anatolia," Nuri Bilge Ceylan
Best Actor: Jean Dujardin, "The Artist"
Best Director: Nicolas Winding Refn, "Drive"
Best Actress: Kirsten Dunst, "Melancholia"
Best Screenplay: "Footnote," Joseph Cedar
Prix du Jury: "Polisse," Maïwenn
Camera d'Or: "Las Acacias"
Palme d'Or (Short Film): "Cross Country"