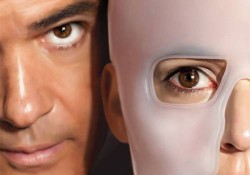 Cannes Film Festival
Pedro Almodóvar's new feature opens with a pause: a beautiful young woman holds a tricky yoga position, her already fine-lathed physique vacuumed into a nude body stocking, stretched across a couch like a pale side of meat hung out for curing. So so taut, so fragile, it seems a simple tap on the shoulder will splinter her perfect form into a chandelier's worth of glass shards — and that's an apt note of tension on which to begin "The Skin I Live In," a coldly kinky thriller in which Almodóvar's career-long concern with the manipulation and violation of the human body is bent back so far it has nothing left to do but break.
The girl is actress Elena Anaya; who she's playing is a question the film keeps in play for far longer than you'd think feasible in a narrative that deftly splits and reshapes identity across a pair of linked tragedies in the life of Antonio Banderas' demented genius of a plastic surgeon. Adapted — rather liberally, I understand — from Thierry Jonquet's novel "Tarantula," the film's dense structure plays Snakes and Ladders with chronology (a late-film title card that reads "back to the present" drew chuckles in the audience for its apparent self-exasperation), staggering major twists across its running time that makes it a challenge to discuss in any narrative capacity. (It hardly flatters the reviewer's role to say this, but audiences are better off reading as little about the film as possible before entering the theater: ignorance really is bliss here.)
The agitated backstep of Almodóvar's storytelling is apt for a film about a man effectively seeking to rewind and restart human life. Dr. Robert Ledgard (Banderas) is a God-playing scientist in the classic Frankenstein mold, having invented a form of synthetic skin capable of reversing both injury and identity — this in response to the grotesque disfigurement of his wife's body after a severe car crash. (True to its title, skin is the film's overriding preoccupation and motif, even in seemingly incidental scenes, as when the camera scrutinizes a lounge singer's large arm tattoo.)
The use and abuse of Ledgard's innovation is prime body-horror territory that most immediately recalls the earlier work of David Cronenberg — it's interesting to note that the rights to Jonquet's novel were initially owned by another off-kilter specialist, Nicolas Roeg — but that's not to suggest Almodóvar is out of his element with this material. Such films as "All About My Mother" and "Bad Education" touched on the malleability of our external selves, while Ledgard's unsolicited invasion of his subjects' bodies is a form of rape that counters the less vicious moral transgressions of the protagonist in "Talk to Her."
This is the sort of conceptually adventurous project the director needed to take on after the enjoyable water-treading exercise that was "Broken Embraces," though devotees of his regular work are unlikely to be overly rattled by the shift. As in his last non-original script, the 1997 Ruth Rendell adaptation "Live Flesh," he refashions a hard, macabre text into something a little more florid: the film's opening act, in particular, offers flashes of the high-pitched melodrama of his female-oriented pictures, as well as the lurid sex-farce notes of earlier Almodóvar. It's the film's least successful section, not for its tonal playfulness so much as the chunky, inelegant exposition delivered by that old Almodóvar trooper Marisa Paredes, as Banderas' suspiciously loyal housekeeper — the same idle narrative short cut that hampered the finale of his last feature.
The film tightens its screws considerably after this early sag, coiling and snapping its revelations to genuinely disorienting effect, its cumulative nastiness abetted considerably by Banderas' cool, appropriately ungenerous performance — the first time he's carried himself like a natural movie star in several years. What's lacking is much emotional undertow, or suggestion of ongoing consequence, to the film's big reveals. Pulpy it may be, but the material offers legroom for its handler to navigate rarely articulated reaches of human sexuality and desire; Almodóvar, despite having gone there in his best films, is more preoccupied here with his own sleight of hand than what he's actually unmasking.
It's that slight hollowness that has me back-and-forthing over whether "The Skin I Live In" is expert trash homage or merely expert trash, but with all the usual formal pleasures of an Almodóvar film intact (chief among them Alberto Iglesias' deliciously ripe score), it's an exciting switchback for him either way.
[Image: Sony Pictures Classics]