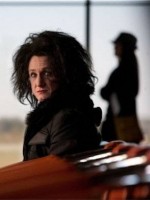 The Cannes Film Festival closes up shop tomorrow with the announcement of the Competition awards — the final competing film, Radu Mihaileanu's "The Source," screened this morning to a tepid reception. Before we get to that, however, a wide array of smaller juries have their own trophies to dish out, and a number of them did so tonight.
I've just returned from the tuxes-and-sneakers affair that is the Un Certain Regard awards ceremony, followed by a screening of one of their prizewinners, Andrei Zvyagintsev's stunning "Elena." (I'll review the film later, but for now, allow to express my bafflement that this remarkable work wasn't in Competition, particular when the director's previous film, no more impressive a work, was.)
There, a jury led by previous Palme d'Or winner Emir Kusturica (choice quote in opening speech: "I was the darling of this festival, and I did not behave myself very well") infuriated critics across the Croisette by handing half their top prize (in a tie) to one of the festival's worst-reviewed films: Kim Ki-duk's documentary on himself, "Arirang." It's a handy reminder that critical response should never be the key consideration when predicting festival awards.
One award where the critics do get their away, of course, is the FIPRESCI Prize, awarded to the film a panel of international critics believe is the best in Competition. Tonight, they surprised no one by picking one of the festival's most widely liked films, Aki Kaurismäki's comedy "Le Havre," which is currently the bookies' favorite to take the Palme tomorrow. More often than not, the FIPRESCI jury's pick doesn't match that of the main Competition jury, though recent films to have won over both include "The White Ribbon" and "4 Months, 3 Weeks and 2 Days."
FIPRESCI also name winners in the festival's other strands: their Un Certain Regard pick is "The Minister" (generally known on the Croisette as "the one with the naked woman and the alligator"), while they echoed the Critics' Week jury by giving buzzy US indie "Take Shelter" its third award in two days.
Always interesting, if often inscrutable, are the selections of the Ecumenical Jury, an independent panel which aims to honor films "which touch the spiritual dimension of our existence" — often a byword for religious-themed or humanistic fare. This year, the award is more noteworthy for what didn't win than what did: despite effectively having "ecumenical" written on it in block capitals, "The Tree of Life" was ignored. Instead, Paolo Sorrentino's rambling road-trip comedy "This Must Be the Place" — the spiritual subtext of which is rather more oblique — took the prize. I thought Sorrentino's film a tone-deaf folly, though it has its admirers. By giving "Le Havre" a special mention, meanwhile, the Ecumenical Jury further proved the widespread appeal of Kaurismäki's frontrunner.
To return to the Un Certain Regard section for a moment, I was reminded of how much I missed in that section this year when "Elena" turned out to be the only one of the jury's picks I'd seen. I was, however, pleased to see one of my favorite films in the strand, young South African director Oliver Hermanus' sophomore feature "Skoonheid," take the Queer Palme for the festival's best gay-themed film — not the most hotly contested award, but an award nonetheless. (A review of that one is also in order — expect one or two Cannes straggler pieces next week.)
Un Certain Regard Prize: (tie) "Arirang," Kim Ki-duk; "Stopped on Track," Andreas Dresen
Special Jury Prize: "Elena," Andrei Zvyagintsev
Best Director: Mohammad Rasoulof, "Au Revoir"
FIPRESCI Prize (Competition): "Le Havre," Aki Kaurismäki
FIPRESCI Prize (Un Certain Regard): "The Minister," Pierre Schoeller
FIPRESCI Prize (Critics' Week): "Take Shelter," Jeff Nichols
Prize of the Ecumenical Jury: "This Must Be the Place," Paolo Sorrentino
Special Mentions: "Le Havre," Aki Kaurismäki; "Where Do We Go Now?," Nadine Labaki
Queer Palme: "Skoonheid," Oliver Hermanus