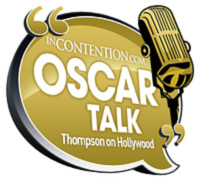 Welcome to Oscar Talk.
In case you're new to the site and/or the podcast, Oscar Talk is a weekly kudocast, your one-stop awards chat shop between yours truly and Anne Thompson of Thompson on Hollywood. The podcast is weekly, every Friday throughout the season, charting the ups and downs of contenders along the way. Plenty of things change en route to Oscar's stage and we're here to address it all as it unfolds.
It has been nearly three months since we last got on the horn to talk the film wards landscape. We promised another dip during Cannes, so here we are. Today Anne and I are joined by Guy Lodge as the two of them have been working the Croisette all week. Let's see what's on the docket today…
• The hot news of the moment when we recorded yesterday morning was Lars Von Trier's public spanking by the festival for inflammatory remarks regarding Adolf Hitler. We discuss both that controversy and the director's latest, paradoxically uncontroversial film, "Melancholia."
• The big event of the festival this week was the unveiling of Terrence Malick's "The Tree of Life." Given that the film screened in earnest in LA, it's something all three of us have seen and can chew on, so we do (as there's PLENTY to chew on there).
• We also run through the laundry list of titles worth discussing so far, from Lynne Ramsay's "We Need to Talk about Kevin" (still a favorite after bowing early) to Pedro Almodovar's "The Skin I Live In" (the freshest on their mind when we recorded).
• We also take a moment to briefly discuss the deplorable "Pirates of the Caribbean: On Stranger Tides."
• Finally, we take a brief survey of the 2011 awards landscape five months in. The year hasn't afforded much to consider but it's worth it to take stock.
No questions from the readership this week. We settled on doing this rather late in the game, so apologies for that. We'll try to knock out one more off-season edition later in the summer before getting back to the weekly grind in late August.
Have a listen to the new podcast below. Get comfortable because it's a long one. Apologies for a handful of audio issues due to the three locales and Anne's poor microphone being on its last leg. If the file cuts off for you at any time, try the back-up download link at the bottom of this post. And as always, remember to subscribe to Oscar Talk via iTunes here.
[display_podcast]

Back-up download: Oscar Talk Episode 56