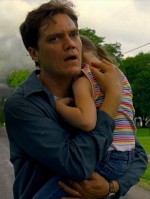 Nine days in, the Cannes Film Festival is winding down. Many of the US journos are flying home, and with Pedro Almodóvar's "The Skin I Live In" having premiered this morning — review coming tomorrow — the superstar auteurs have all shown their hand. (That's not to say Nuri Bilge Ceylan or Paolo Sorrentino can't alter the shape of the festival, however.)
But with the drop in energy comes the scent of gold, as we prepare for the annual Cannes parlor game of loudly criticizing the jury's decisions. We're still three days away from the Competition awards — though Aki Kaurismäki's broadly liked comedy "Le Havre" (which I frustratingly still haven't seen after three attempts) has emerged as the sizeable Palme d'Or favorite, while I hear rumors that Olivier Assayas is the lone "Tree of Life" fan on the jury — but the trophy run began tonight with the winners of the Critics' Week sidebar.
I haven't seen as many of the 22 films selected for Critics' Week this year as I'd hoped to, so it's by sheer luck that I happened to catch the strand's big victor. US director Jeff Nichols' sophomore feature "Take Shelter," already a critical favorite at Sundance, continued its run of good festival fortune by taking the Grand Prix from a jury headed by Korean auteur Lee Chang-dong, as well as the alternatively-juried SACD Prize.
I caught up with the film (a Sony Pictures Classics baby) yesterday and was markedly impressed: an encouraging expansion on the virtues of Nichols' debut "Shotgun Stories," it boasts a killer narrative hook and impressive performances by Michael Shannon and Jessica Chastain (both making their second appearances of the festival for me). I'll review it at greater length soon (and Anne and I discuss it briefly in tomorrow's podcast), but here's what I tweeted: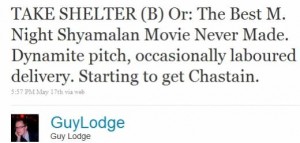 A special mention from the jury went to Australian serial-killer drama "Snowtown," about which I've heard very loud buzz — I hope to catch it tomorrow. Meanwhile, another film I saw and enjoyed, Argentinian debut director Pablo Giorgelli's gently romantic road movie "Las Acacias," took a pair of prizes. (More on that one in a future roundup — can you tell yet how long my review backlog is?)
Full list of Critics' Week winners here.
[Photo: Sony Pictures Classics]