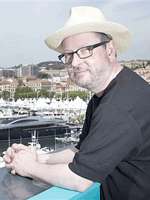 Guy is on his way to a screening of Nicolas Winding Refn's "Drive" at Cannes right now, but he will eventually get around to addressing Lars Von Trier's spanking by the festival, which now considers him persona non grata.
In the meantime, however, I'll align myself with this statement from David Poland's assessment:
Is von Trier an ass at times? Absolutely. Aggressive provocateur? Absolutely.

But he is one of the few high profile filmmakers who pushes audiences to Think. You can hate what he makes, but you can't deny that he is skilled and alive with ideas. Who will stand for this in a homogenized, instant-news-cycle culture if Film Critics and Festivals will not?
I just wrapped up a podcast with Guy and Anne that will run tomorrow morning, but in it, Anne made the interesting point that Cannes is still very much a fan of Mel Gibson, a guy who has made inflammatory, heartfelt statements in the same wheelhouse as Von Trier's half-joking, half-analytical provocation.
Personally, I consider the whole situation shameful on the festival's part, not on Von Trier's.
If you haven't read Guy's review of Von Trier's latest, "Melancholia," you can check that out here.
[Photo: Associated Press]