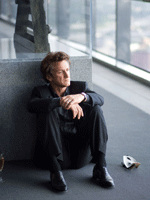 I decided to sleep on Terrence Malick's "The Tree of Life." After a full day of jury duty, a few moments for dinner and then a trip to West Hollywood for the 7:30 screening — which let out near 10pm — it seemed foolish to jump right in to such a dense piece of work. I shutter at the thought of instant Tweet reactions from Cannes (and the one blogger who surely had little more than one-upmanship in mind when he decided to fill his brain with the film twice in Los Angeles yesterday).
But I guess the unfortunate fact is, this is a film met with more inflated cinephile anticipation than any in recent memory. So clamoring to express thoughts on it is to be expected. Much of this is owed to Malick's self-imposed aura of awe, retreating from the press experience in the wake of a tough "Days of Heaven" production over 30 years ago. It is seclusion as understandable as it is not. (I recall a frustrated New Line publicist in 2005: "Even Kubrick did phoners!")
But it's his prerogative as an artist. I, for one, think it equally places his work in virginal dressing and diminishes it from the outset by casting it in the harsh, inorganic light of expectation. Nevertheless, just as the jury on which I may find myself is meant to judge "just the facts, ma'am," I'm here to convey my thoughts on "just the film."
It is Malick's most epic endeavor. Paradoxically, it is also his most intimate. I was taken by the dreams I had overnight: visions of my parents, a family cat who once had incredible trouble delivering a litter of kittens, my bride to be, abstract feelings and images, all informed by what I had seen. That says to me it's a film that, love it or hate it, makes its way inside you and, if you allow as much, forces you to consider it.
If you're reading this assessment, I assume you've read others, so you're familiar with the trajectory of the narrative:
A 1950s household — the O'Briens: two parents, three children (boys) — is held under a microscope briefly before Malick sends his story to the beginnings of the universe with eye-popping, bravely analog effects wizardry. The rest of the film plays out the family yarn with the understanding, it would seem, that despite the intense drama, these people and their plight are but a spec in the perspective of the greater cosmos around us.
That theme is set from the outset as Malick quotes the Book of Job. "Where were you when I laid the earth's foundation," God asks the burdened, simple man in the Chapter 38 passage. The other theme of note is a Malick standby: man's capacity for violence and impulse (deemed "nature" in the film and embodied by Mr. O'Brien, Brad Pitt's fiery patriarch and one of the actor's best performances) as well as love and compassion (deemed "grace" and embodied by Mrs. O'Brien, Jessica Chastain's soft ray of innocence).
These two themes are, in so many words, two of the most cutting and honest themes of humanity that can be explored in any medium. Malick has flirted with them, particularly "nature versus grace," throughout his career, but here he aims to reconcile them with the great unknown: the Creator.
His answer is a macro/micro vision of "all and one." The destruction of a species is juxtaposed with Mrs. O'Brien's pregnant belly. An up-angle shot of tree branches against a blank sky recalls the superficial veins that harness the heart (while narration regarding the heart intones over the soundtrack). A child is meant to both wrestle against and accept with epiphany what of his parents resides inside him, all the way through a successful big city career (the first time Malick has captured modernity with his lens).
And that tug of war, I think, is the central spell Malick wants to cast. But it's the idea that it's not nature VERSUS grace. It's nature AND grace. As the narration from the closing moments of "The Thin Red Line" conveyed, "The brother. The friend. Darkness from light. Strife from love. Are they the workings of one mind? The features of the same face?"
I wonder if Malick feels them to be just that.
It's cosmic. It's heady. It's trippy. It's thoughtful. There will be those who make facile jokes about symbolism and safely feel the director has climbed fully inside his own backside. And the frustration is understandable. This shouldn't read as a rave assessment as I am conflicted about what I saw and felt much of it labored. But with the morning dew still glistening on this latest effort from the director, I don't think anyone should be judging in absolutes.
"The Tree of Life" is flawed. But it wouldn't be as pristine if it weren't. I still find the aforementioned "The Thin Red Line" to be his most precise study. "Badlands" is his tightest narrative. He married that conservative focus to a larger perspective in "Days of Heaven" five years later, and "The New World," when narration really started to get away from him, is his most complete film, as it doesn't carry the same definitive inchoate notes as the rest of his work (and works better, I feel, in its expanded cut).
I would call "The Tree of Life" his most thoughtful film yet, full of all the meandering and internal deliberating that comes with being thoughtful about something. It doesn't make a complete experience, but it does make a profound one.
Sam Shepard once said Malick's films should not be considered analytically, that they are visceral and should be evaluated (if they are going to be evaluated) in that light instead. "The Tree of Life" is the best example of that consideration yet, and I look forward to experiencing it, and evolving with it, over the years. It will be one of the enduring works, win, lose or draw with 2011 critics and audiences.
In case you missed Guy's review out of Cannes, you can find that here.
(I'm sure I'll be talking about this film more in the next few weeks. There is much left unaddressed, from Emmanuel Lubezki's unbelievable cinematography to Hunter McCracken's wonderful debut, and I promise it will all bubble up. I'm glad the film releases shortly, so we can all join in on the discussion.)
[Photo: Fox Searchlight Pictures]