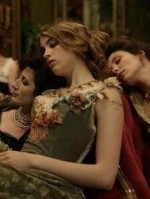 Perhaps lulled by the twin effects of the Côte d'Azur sun and copious amounts of cheap rosé between screenings, I've fallen behind somewhat on the reviewing front — but lest you think I've only seen one film a day before heading back to the swimming pool at Villa Romance, it's time for a bit of a Competition catch-up. (I'll get round to a handful of Un Certain Regard and Critics' Week titles — a couple of them very strong — as soon as I can.) Tomorrow brings another of my most anticipated titles of the festival, Lars von Trier's "Melancholia," which should steer Croisette conversation forward after a low-level day of screenings, over which talk of "The Tree of Life" has remained the dominant hum.
"The Kid With a Bike" (***)
"More of the same, but less," I tweeted immediately after seeing the latest finely-honed study in urban realism from Belgium's two-time Cannes champs, the Dardenne brothers. It's a statement I stand by — it's difficult not to think that after the muted acclaim for "Lorna's Silence," their 2008 flirtation with higher-concept storytelling, they've retreated to a safe space — even as I admit it doesn't factor in some subtle novelties in the new film. "The Kid With a Bike" is literally their brightest film to date, for starters, shot mostly in crisp summer sunlight and poppy primary hues, which may also be why it feels like their most uncomplicatedly redemptive.
For the most part, however, the film is tonally and thematically of a piece with such studies of socially marginalized youth as their two Palme d'Or winners "Rosetta" and "The Child," and even more classical landmarks of neo-realism: 11 year-old protagonist Cyril (impressively spiky newcomer Thomas Doret), a faintly feral tearaway abandoned at a children's shelter by his responsibility-shy father (Jérémie Renier, himself a former Dardennes youngster), has a sour impatience with the world that recalls Antoine Doinel, while the titular two-wheeler carries the same symbolic weight of essential independence that it did in "The Bicycle Thieves."
If the film, despite its many quiet, unromantic virtues of craft and concept, is less urgent or wrenching than the brothers' best work, the fault may lie with the character of Samantha (Cécile De France), a pragmatic single hairdresser who takes the role of Cyril's weekend foster parent. Their relationship is a touching, if compellingly guarded, one, and De France's dryly warm performance balances that of her squirmy young co-star nicely, but the Dardennes' script is missing a few beats in terms of Samantha's motivations: having no foreknowledge of her background, relationship history or possible long-term desires makes her markedly quick, unquestioning acceptance of Cyril into her life a narrative convenience when it could be a more resonant act of character.
The Dardennes' usually commendable economy (at a mere 86 minutes, "The Kid With a Bike" is their shortest feature yet) curiously feels like a handicap in this bluntly edited film. Many are declaring it a return to form for the brothers, but while it asserts their supreme empathy as filmmakers, I'd like to see them follow the messier trail of their last feature a little further.
"House of Tolerance" (**)
I'll say this much for "House of Tolerance," Bertrand Bonello's visually plump and philosophically bulimic study of life in a fin de siècle Parisienne brothel: it's not slow to reveal itself. Before the opening credits have begun rolling, Bonello treats us to a line of dialogue even Joe Eszterhas might have redlined in a first draft: "I feel your sperm rise up in me and flow out of my eyes in thick, white tears."
If you're struggling with the mental image prompted by that gem, rest assured the film will helpfully visualize it for you before its all-too-distant conclusion; if, on the other hand, you choose to see a kind of unmilled poetry in these words, you'll be equally pleased to know that we've only scratched the surface of Bonello's take on female sexual expression. We still have this line to come, for starters: "I would pluck out my eyes for you so you'd have more holes to make love to me." As tempting as it is to let the film write its own review from such quotes, the film misses the mark in rather more interesting and ambitious respects than mere dialogue.
Detailing the gradual decline of fortunes in the titular house of ill repute after one of its more senior prostitutes is slashed to ribbons by a knife-wielding client (whose choice of a white porcelain mask for the occasion conjures presumably coincidental memories of "Nip/Tuck"'s maligned season-three Carver storyline), the film's sexual politics are difficult to pinpoint. If Bonello is decrying the sex industry's objectification of women, he does little to rectify the matter with his own film's parade of nubile, clothing-resistant bodies, few of them granted distinguishing traits beyond such titles as "The Jewess."
If he's attempting something less didactic and more observational, matters are still hampered by his one-size-fits-all characterization: it's hard to imagine that conflicts and alliances don't arise in this particular live-work set-up, however much opium they smoke, but these papery girls don't respond to much of anything. That may partly be Bonello's point, but passive disaffection is a difficult mood upon which to build a 130-minute piece, as the tedium experienced by the characters gradually becomes the film's own.
There's an elegiac dignity to the film's treatment of the oldest trade, bolstered by its saturated jewellery-box visuals, and Bonello is a bravura, if not terribly discriminating, stylist: his decision to have The Moody Blues' 1970s soft-rock anthem "Nights in White Satin" diegetically soundtracking a key sequence is the kind of brazen flourish without which this silly provocation would be a lot less interesting.
"Michael" (**)
A measured, appropriately enervating but finally rather unilluminating study of a paedophile's secret life, accomplished Austrian casting director Markus Schleinzer's directorial debut is as indulgent in its mannered minimalism as "House of Tolerance" is in its sumptuous insanity. Inspired by the headline-making case of Natascha Kampusch, an Austrian girl kidnapped at the age of 10 and held captive for eight years, Schleinzer's film tells the tale of a mild-mannered white-collar worker (Michael Futih) harboring a pre-teen boy (David Rauchenberger) in his basement, treating him alternately as a surrogate son and a sexual slave. The basement set-up also recalls the recent Josef Fritzl scandal in the same country: the Austrian Tourism Commission is doubtless sending Schleinzer a poisoned muffin basket as we speak.
Schleinzer takes his time laying out the specifics of the situation in mostly non-explicit terms, using either visual clues such as a soundproofed door (about which other visitors to Michael's home seem curiously uncurious) or edits (a quick cut from the bedroom door closing to Michael washing his penis in the sink) to cleanly convey the full horror of the situation. There's little here to complain about on a formal level, though it's almost parodically severe filmmaking: Schleinzer affiliation with Michael Haneke, for whom he has cast several films, is all too plain in his serene, dread-inducing tracking shots, sparse rhapsody-in-beige production design and flat soundscape (a calculatedly ironic burst of Boney M's cheese classic "Sunny" aside).
If the freshman director's control of the medium is impressive, an original voice isn't much in evidence, as the film's most arresting jolts of technique feel lifted from a national cinema not short on chilly precision. (As unkind as it may be to call a film about a stereotypically milky-eyed paedo "quintessentially Austrian," that's what it is.) Schleinzer rather assumes that the shocking subject matter is a statement in itself, but we learn little about what makes men like Michael tick, even as the curbing of his victim's perspective keeps us ickily complicit in his activities, down to a capital-A Ambiguous denouement that isn't quite as courageous as it would like to think.
"Footnote" (*1/2)
It's a pretty cheap punchline to stick a film with this title at the bottom of the page, but 'footnote' is regrettably the word for Joseph Cedar's busy, shrill but strangely dour comedy of letters — my least favorite film of the Competition so far, if not emphatically the worst. The story of a father and son, both leading Talmud professors in Israel, whose already brittle relationship splinters when one of them is awarded the country's local equivalent of the Nobel Prize, the film's niche narrative isn't made any more penetrable by affected comic styling that sees the film split into random, bitty chapters and overlaid with a frenetic, over-cranked score that swiftly induces a headache.
That said, the excessively jaunty score is probably necessary to distinguish the film as a comedy when its one-liners include such head-scratchers as, "Life in a couple is like a tree: whatever you may say behind his back, you're better off on his good side." The film comes closer to succeeding as drama, particularly in a vivid closing shot that reveals years of accumulated resentment visibly curdling into regret on one character's face, but the central conflict inevitably recalls the old adage of academic politics being so vicious precisely because the stakes are so small. As the son of an academic myself, I've pondered the truth of this statement on many an occasion — and making a movie about said politics doesn't raise the stakes any.