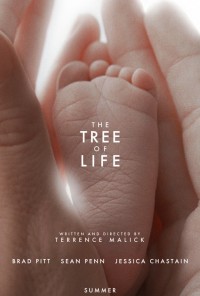 Cannes Film Festival
Landscape has always been character in the films of Terrence Malick. The even, rolling fields of "Days of Heaven," the sweatily green hill ladders of "The Thin Red Line," even the dry-toast mesa of "Badlands": all expansive, overwhelming environments that dictate the behavior of the films' human occupants through sheer force of presence, for it's often all they have to live in and live with. It's an approach that, across 33 years of widely-spaced work, has drawn as many accusations of vacant pictorialism as it has rapt devotion — without the mystique Malick has accrued through his slow-loris work patterns, it's difficult to say which camp might have emerged dominant — but it's made for an oeuvre with a stylistic and textual throughline that belies its scattered production.
Until, that is, "The Tree of Life," Malick's long, long delayed fifth feature that is at once his most interior work and his most grandiosely conceived. A fractured, impressionistic memory album documenting the roots of familial estrangement in a middle-class 1950s household in the director's hometown of Waco, Texas, it arrives on the screen surrounded by bookends within bookends: scenes depicting the present-day social alienation of the family's grown eldest son (Sean Penn), bracketed by vastly scaled sequences addressing more generalized concerns of theology, evolution and mortality.
It's the first of Malick's films to feel like the product of more than one purposeful creative urge; his first to preferentially separate its thematic concerns from its narrative ones, such as they are; his first, to balance my opening gambit, in which character is allowed to become landscape. His most open-armed and structurally undisciplined film to date, it might yet prove his least rewarding.
Malick opens proceedings with a heavy hint as to the broadness of his conceptual brief by quoting Job 38:4-7, a Biblical passage in which God asserts full creative ownership of our planet with something approaching defensiveness: "Where were you when I laid the earth's foundation?" He asks, as if curtly reminding us (or the believers among us, at least) that He was here first, and that we are merely fleeting guest residents. It's a deceptively emphatic start to a film that probes capital-letter issues of Existence with curiosity if not great subtlety.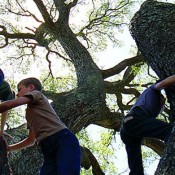 Lest we think Malick is posing spiritual statements rather than questions, the epic hailstorm of evolutionary imagery in the film's opening act (peaking, of course, with those much-vaunted dinosaurs, vividly realized if only cursorily shown) is less than scriptural in its agenda, even as Jessica Chastain's voiceover — attached to a never-revisited scene in which she and husband Brad Pitt absorb the death of their 19 year-old son — intones familiar platitudes about God's hands and the old giveth-and-taketh-away rub.
This opening half-hour, not unlike a further "Koyaanisqatsi" sequel with heavier effects and more ringing classical accompaniment, will likely remain the principal talking point of the film. Positively so for some — there's no denying the visual wow factor at play here, as we hurtle through enough richly rendered constellations, rivers and canyons to fill an entire David Attenborough series — but it struck me as faintly stilted, over-determined filmmaking of the variety the director has always danced around, yet never quite succumbed to. That the narration is delivered in an ecstatic stage whisper rather heightens the sense of self-awe.
If the sheer bigness of this filmmaking offers a mixed payoff, it's followed by a reminder of what an economically sensual director Malick can be: the entire courtship of Pitt and Chastain's character is dazzlingly navigated via quick cuts in and out of shadow: a laugh, a caress, a pregnant belly. It's the first clue that, while the film speaks its loftier ideas elsewhere, the meat of the film lies in this domestic narrative. Perhaps something of a deflected memoir for the director, the film's dominant middle section shrinks dramatically in scale as it sketches the relationships between the beautiful couple and their three equally Rockwellian young sons — the eldest of whom has the most trouble bending to the harsh rule of his emotionally constipated father.
Largely shirking dialogue in favor of sensation, Malick paints this family portrait in free-associative scraps of anecdote and conflict, across a canvas of endless, blissed-out summer: from key events such as an abusive dinner-table argument that carves a clear divide of parental loyalty into the family, to isolated incidents as large as the death of a neighboring boy at the public pool or small as the prankish explosion of a frog on a skyrocket. Denied his usual geographical breadth, Malick and cinematographer Emmanuel Lubezki (often working in a more serene vein of the vertiginous, bob-and-weave tracking that he mastered in "Children of Men") still conjure frame upon frame of opalescent, five-in-the-afternoon beauty.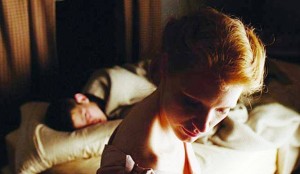 Such passages will attract the usual charges against Malick of preciousness, particularly with such arc-free storytelling — the director's characters are rarely the most elaborately drawn, but these, Jessica Chastain's nymph-like housewife in particular, are almost entirely symbolic. Still, filmmaking this swoonily lovely does suggest some personal reflection on Malick's part on the unreliable elasticity of memory, even as it has little to no bearing on the grander, would-be universal themes and motifs of the introduction.
Malick attempts to shoehorn these disparately scaled lines of philosphical inquiry into a coda that regrettably averages out as overreaching kitsch, as characters living and dead unite in a beachy, pearl-lit afterlife, Chastain's breathy narration relinquishes her son to the angels and enough cream-colored tuile floats around the screen to clothe several Enya music videos. (We'll just assume that the shot of a commedia dell'arte mask floating in the ocean — something that has no logic whatsoever in Malick's image system — drifted in from one of them.)
Further fuzzing the question of what "The Tree of Life" wishes to say about our collective spiritual journey (perhaps it's that the director is still open to all options, which is no bad thing, though confusing to visualize), it's a badly misjudged finish to a film that nonetheless has sections so rapturous as to justify the six-year wait since "The New World" on their own. (That said, the film's weaknesses may well be the result of an overthought creative process.) Malick's slow-burn cinema tends to take several viewings to reveal its full arsenal of tactile pleasures, so I already look forward to a second encounter with his latest. At first blush, however, I'm left stimulated but unmoved, as if having watched the life of someone I hardly know flash before my eyes.
[Images: Fox Searchlight Pictures]