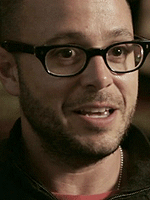 I think it's fair to say, with top name talent from Martin Scorsese to Michael Mann, Gus Van Sant to Neil Jordan rushing to the arms of the small screen, not to mention the general lift in quality programming of the past half a decade, television could be on the precipice of a new renaissance.
This is before we really sit back and analyze and consider the impact, already felt, of On Demand services that will no doubt take off with the standardization of at-home delivery. Episodic entertainment may well spring to new, invigorating life. And those smart enough to see what's coming are already testing those waters, like Netflix's recent, potentially game-changing deal with Kevin Spacey to launch "House of Cards" (directed by David Fincher) exclusively on its streaming service.
In a nutshell, it's an exciting time for television, and with the rise of the showrunner in full swing, at what could be a bellwether moment for the industry, it's the perfect time for a filmmaker to pull back those layers.
That's what Irish filmmaker Des Doyle has set out to do with "Showrunners," an upcoming documentary featuring interviews with Damon Lindelof ("Lost"), David Shore ("House"), Jeff Pinkner & J.H. Wyman ("Fringe), Kurt Sutter ("Sons of Anarchy"), Robert & Michelle King ("The Good Wife") and many more. The film is "an in-depth exploration of the making of modern American television," according to the official synopsis.
Full disclosure: I know the filmmakers behind "Showrunners." They are hoping to have a presence at Comic-Con this year, as so much of the material they're covering — from "Lost" to "Fringe," "Spartacus: Vengeance" to "Battlestar Galactica: Blood and Chrome" — appeals to that market.
The film is co-produced by the Irish Film Board, John Wallace of Black Sheep Productions out of Ireland and Christof Bove of Junto Entertainment stateside.
Here is a trailer they've cut to stir some interest (which is making the rounds on the internet this weekend):
You can keep up with the project at Twitter (@ShowrunnersFilm) and Facebook.
[Photo: Black Sheep Productions/Junto Entertainment]