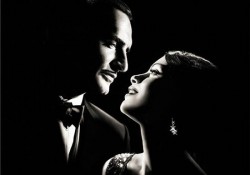 Cannes Film Festival
"Please be silent behind the screen," requests a sign in the cinema where silent movie star Georges Valentin's latest work is screening, near the beginning of "The Artist," Michel Hazanavicius' semi-sweet paean to pre-talkie cinema.
It's a witty clue as to how Hazanavicius is going to run the ship in his own not-quite-silent movie: swooping strings accompany the film-within-a-film's finale as Valentin (Jean Dujardin) waits confidently in the wings, only for sound to cut out just as the audience bursts into thunderous applause. It's a neat trick, one the director pulls and reverses a few times in 100-odd minutes that follow, and one that cunningly aims to replicate in negative the disorientation 1920s picturegoers might have felt when films suddenly started speaking.
If "The Artist" never quite becomes the ingeniously self-reflexive cinematic essay this scene promises, it succeeds on several warmer, more immediate levels: as an infectiously affectionate reminder of a lost art form's joys, as a lushly imagined exercise in style, and most crucially, as a funny, emotionally connected entertainment in its own right. As in his pair of hit "OSS 117" films — droll spoofs of 1960s spy cinema, the casual pleasures of which his latest considerably builds upon — Hazanavicius' approach to pastiche is exacting but not academic: story remains the top priority here, and he has settled on one that is snugly predicated on the film's very own formal conceits.
For his narrative, Hazanavicius tightens the film's ties with vintage Hollywood, and not only to its silent output. "The Artist" is yet another variation on "A Star is Born," a chestnut so frequently filmed (and unofficially remade) as to have entered the public domain: an older male star finds himself slipping down the fame ladder, just as the young ingenue (Hazanavicius's own wife, the appealingly off-center Bérénice Bejo) whose career he enabled starts shooting up it, their bruised romance meeting somewhere in the middle.
In this read on the tale, the man's demise is less induced by self-destructive instincts and more a passive consequence of external shifts; that Valentin's gifts as a silent performer are no longer prized in an entertainment industry fixated on the new makes the film something of a companion piece to another recent valentine to left-behind art, Sylvain Chomet's "The Illusionist."
That the film translates as heartsore character study and not just clever-clever genre frippery is in no small part thanks to the quicksilver performance of the pencil-mustachioed Dujardin, a French comedian (and leading man of the aforementioned "OSS 117" films) possessed of George Clooney's unforced magnetism and Marcello Mastroianni's cool quizzicality. His elegantly planed features themselves recalling an outmoded brand of movie stardom, he's an endlessly limber physical performer, whether manipulating his eyebrows with a marionettist's touch or breaking without  sweat into a Fred Astaire dance routine. It's difficult to think of many actors so in command of their expressive faculties as to make a project like this fly — particularly when the anguish must be writ as large as the comedy.
Hazanavicius's technical crew are clearly as well-versed in the form as his star: Guillaume Schiffman's silky monochrome lensing perfectly captures the silvery sheen (as opposed to currently the more fashionable chiaroscuro effect) of late-silent-era studio filmmaking, while Ludovic Bource's glorious score adeptly shuffles between the tinkly, upright-piano mode of live accompaniment and more grandiose orchestrations that signal the sea change to come. If "The Artist" were merely a hollow feat of cinematic mimickry, it'd still be a lavishly beautiful one; as it stands, it's a joyous, even moving, bridge between estranged forms of creative expression.
[Photo: The Weinstein Company]