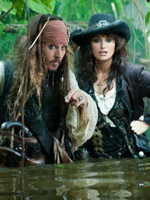 Guy was balancing two options in Cannes this morning: Take in the press screening of Rob Marshall's "Pirates of the Caribbean: On Stranger Tides" or catch up on some much-needed rest. Given that I had already suffered the experience, I suggested he spare himself the 130-odd minutes of anguish and, I don't know, lie in a park and eat a baguette or something.
Truly, this film is the embarrassing, excruciating fourth installment of a franchise that bottomed out somewhere in the middle of the second. I wanted it to end the minute it started, and knowing there were over two hours to come, it was a trying, trying experience. The only thing that kept my attention was the placement of Penélope Cruz's crucifix necklace.
But no one is pretending this is anything beyond a paycheck for talent and a conservative money-grabbing maneuver on the studio's part. I guess you can't blame them. Opening weekend will be huge. Nevertheless, I don't think I've ever wanted to stand in the streets and scream, beg for consumers not to spend their money on a film so badly. Hopefully the final receipts will fall short of the marks reached by the other entries.
The "screenplay" (from the same duo who brought us the rest, though clearly running on fumes now) is a confused melange of supernatural mumbo-jumbo that doesn't even make sense on its own terms. Yet, unlike Gore Verbinski's set, it doesn't have the built-in charm that allows for some level of forgiveness.
The action set-pieces are just hilarious in their mimicry of each other at this point. It seems a desire to re-capture the freshness of that first duel between Captain Jack Sparrow and Will Turner is feverish. But that shark was jumped with the bone spheres of "Dead Man's Chest," I'm afraid.
It was painful to watch the great Ian McShane wither away amid this madness. And there was something there — far from the finished product — in tapping Blackbeard for another dose of mystical voodoo. But I'll be damned if the writers knew how to get at it.
I'm also pretty sure I was supposed to care about Sam Clafin and Astrid Berges-Frisbey. I didn't. It's an entirely perfunctory sub-plot. But these films have been built on them. We must keep tradition alive, lest we abandon a trademark bloated running time
Dariusz Wolski found more than a handful of inspired images previously, but here I'm guessing the visuals are weighed down by the simple fact that Marshall seems to be in a downward creative spiral. How he got this gig remains a mystery to me, but whatever it yielded for his wallet, he should feel fortunate for it. The goodwill of "Chicago," however, has all but run its course now (and I speak as someone who frankly thought "Memoirs of a Geisha" wasn't a disaster). When you're rolling your eyes at Judi Dench and Richard Griffiths, something isn't working.
The big winners of "Pirates of the Caribbean: On Stranger Tides?" Jack Davenport, Jonathan Pryce, Keira Knightley and Orlando Bloom.
[Photo: Walt Disney Pictures]