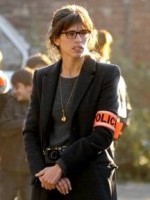 "Polisse" (***) That the title for "Polisse" reportedly derives from writer-director-star Maïwenn's misspelling of the word "police" aptly summarises both the charms and weaknesses of her third feature, a garrulous, chaotic, intermittently hot-wired ensemble soap braiding the personal and professional lives of officers in the Paris police department's Child Protection Unit.No doubt the product of much earnest first-hand research into that environment — the numerous individual cases portrayed here are all rooted in fact — the film nonetheless feels creatively informed to a greater degree by the rhythms and structures of TV procedural drama.
If that reads as a slight, it is and it isn't: Maïwenn (the tearaway French star who had Luc Besson's child at 17 and was allegedly the inspiration for Natalie Portman's character in "The Professional," so perhaps she knows more about CPU than most) gets what makes such shows propulsive, as she restlessly scurries between multiple crises rendered in cinematic shorthand, patly completing some strands and leaving others hovering for future episodes that will never get made. Casually bed-hopping and entering volcanic shouting matches at the drop of a hat, her characters don't behave quite like human beings so much as the heightened reflections of them dictated by short-form storytelling; in some respects, Maïwenn's writing is as phonetic and overheard as her spelling.
The film's shrill, tangled office politics rarely ring true — least of all those involving the director's own vanity character, a photographer assigned to document the unit's work who, following one of those absurd scenes in which spectacles are shed, hair is unpinned and we supposedly reel back in shock from the unleashed hotness, takes up with the unit's most rule-bending officer (charismatic rapper-turned-thesp Joeystarr). It's not often one can say that work trounces play, but "Polisse" really finds its feet in its humane but matter-of-fact treatment of the cases themelves: two particularly wrenching scenes involve a homeless mother relinquishing custody of her child, and a teenaged girl (Alice de Lencquesaing, in a stunning mini-performance) delivering a stillborn child.
Such searing, verité-inspired sequences sit oddly with the characters' pettier personal dramas, and an indulgent 130 minutes, the combined effect is a little shapeless: Maïwenn attempts to force closure by intercutting an abuse victim's story with the police officers' ongoing beat, but proceedings really could begin and end at any point. Still, her film is often stirring and never dull: if it plays like a little like the front-loaded pilot for an HBO-style cop saga (let's call it "Hill Street Bleu"), I'd watch the hell out of the full series.
"Habemus Papam" (**) Contrary to earlier reports, the international title for Nanni Moretti's hypothetical Vatican story remains the Latin one used for its Italian release — the formal phrase used to precede the announcement of a new Bishop of Rome — and not the direct English translation "We Have a Pope." Nor is it "The Pope's Speech," though if an opportunistic US distributor takes this anodyne comedy-drama under its wing, that could all change.
That's a cheap — and here on the Croisette, not particularly original — joke, but the coincidental parallels between Moretti's film and Tom Hooper's recently Oscar-approved royalty play are hard to ignore: both concern newly and reluctantly appointed leaders who require the intervention of straight-talking commoners to address their crippling doubts about their own suitability for the position. Both films downplay the public politics of the situation in favor of droll behind-closed-doors activity designed to underline how like us these lofty men of power are, while muting directorial authority to operate principally as performance showcases.
In this case the beneficiary is 85 year-old French master Michel Piccoli, a graceful and incrementally affecting presence as Cardinal Melville, a shy, unfancied candidate elected to replace the recently deceased (and unnamed, though the film is set in the present day) Pope to his great surprise and greater dismay. Stricken with a panic attack when asked to address his adoring public, he refuses to accept the position. Enter Moretti himself as a revered (and atheistic) psychoanalyst, whose attempts to calm Melville extend to a wider project of humanizing the assembled men of God with junk food and volleyball tournaments. In the Hollywood remake, he'd almost certainly be played by Robin Williams.
To describe the slim narrative any further is to pick at the few surprises Moretti imagines his film possesses, but Melville's torment essentially jogs on the spot until a tonally jumbled finally that welds unengagingly zany hijinks (involving, for reasons best known to the director, an amateur theater company performing Chekhov's "The Seagull") to an abruptly solemn conclusion that denies us any compelling sense of fallout in the outside world.
This is one of many respects in which Moretti — his occasional satirist's flag flying limply at half-mast here — appears to be playing it safe, resisting any commentary on the institution in question (and any insight into the root of Melville's refusal) in a story that opens up provocative potential avenues of argument. Not without intelligence or compassion, "Habemus Papam" is the kind of classically blue-haired arthouse fare most easily described as "harmless" — which is the last thing a film about the contemporary Catholic Church should aspire to be.