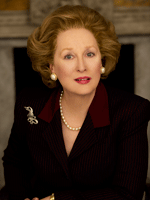 When I get around to updating Oscar predictions in a couple of weeks, I will, as usual, refrain from including any films that don't yet have domestic distribution. But one title can be taken off of that list, and may have just thrust Meryl Streep to the top of the lead actress race (though she'll certainly find competition from Tilda Swinton when "We Need to Talk About Kevin" inevitably finds a home).
The Weinstein Company has stolen a little thunder from the Cannes whirlwind, announcing today its acquisition of Phyllida Lloyd's Margaret Thatcher biopic "The Iron Lady." In the wake of "The King's Speech," it seems Harvey is sticking to proven material, and Brit biopics are still a solid play in the awards season. Jim Broadbent could also be someone to watch for in supporting as Thatcher's husband.
For a number of years now, the cult of Streep has demanded further awardage for the undeniably prolific actress. Two Oscars over 20 years ago just aren't enough. In my opinion, nothing she's done since last winning in 1982, save for maybe 2002's "Adaptation," has warranted a win over her competition. But 16 nominations is nothing to sneeze at, and it seems a 17th could be on the way, further extending her record.
Check out the full press release after the jump.
TWC PARTNERS WITH RON BURKLE TO ACQUIRE U.S. RIGHTS FROM PATHÉ INTERNATIONAL TO PHYLLIDA LLOYD'S THE IRON LADY STARRING MERYL STREEP AS MARGARET THATCHER
2011 Release Planned
New York, NY, May 13, 2011 – The Weinstein Company (TWC) announced today that it has acquired from Pathé International all U.S. distribution rights to THE IRON LADY, directed by Phyllida Lloyd (MAMMA MIA!) and starring Academy Award® winner Meryl Streep (THE HOURS, JULIA AND JULIA) as Margaret Thatcher. Academy Award winner Jim Broadbent (the HARRY POTTER series, IRIS) co-stars as Thatcher's husband, Denis. The film marks the second collaboration between Lloyd and Streep, following the acclaimed hit musical MAMMA MIA!. THE IRON LADY is written by award-winning writer Abi Morgan (BRICK LANE, WHITE GIRL) and produced by Damian Jones (THE HISTORY BOYS, MILLIONS). The announcement was jointly made by TWC Co-Chairman Harvey Weinstein and Francois Ivernel, EVP, Pathé.
TWC will partner on the acquisition with Ron Burkle, in the third joint acquisition of 2011, following OUR IDIOT BROTHER and THE DETAILS.
The US Theatrical release for THE IRON LADY is planned for 2011.
Said Weinstein, "Having worked with both Meryl Streep and Jim Broadbent, I know that they are without peer as film actors. Even so, I was absolutely blown away by what I saw of their performances as Margaret and Denis Thatcher. Phyllida is doing an incredible job."
Commented Ivernel and Cameron McCracken, MD Pathé UK, "We are excited to be in business again with Harvey and his team – The Iron Lady has found a worthy home in TWC and a great champion for the US market."
Added Peter Lawson TWC Executive Vice President of Acquisitions and Co-Productions, "I was very impressed by the screenplay and when I saw the assembled footage, I knew immediately that THE IRON LADY belonged at TWC."
The deal was negotiated for TWC by COO David Glasser, Lawson, and Michal Steinberg, Senior Vice President Business Affairs and Acquisitions; and for Pathé by McCracken, Muriel Sauzay, Executive Vice President, International Sales and Mike Runagall, Senior Vice President, International Sales.
THE IRON LADY – SYNOPSIS
THE IRON LADY is a surprising and intimate portrait of Margaret Thatcher (Meryl Streep), the first and only female Prime Minister of The United Kingdom. One of the 20th century's most famous and influential women, Thatcher came from nowhere to smash through barriers of gender and class to be heard in a male dominated world.
[Photo: The Weinstein Company]