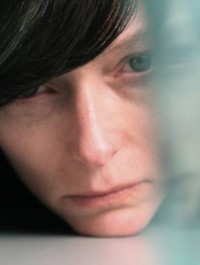 Cannes Film Festival
Lionel Shriver's 2003 bestseller "We Need to Talk About Kevin" is a rare pop novel indeed: a nippy, low-comfort social essay that lures readers into messily untied arguments on topical subject matter the talk-show circuit would have far less trouble resolving. It might have made for a cluttered, stentorian film about things, particularly as the novel's candid, epistolary format — a series of unreturned letters from an emotionally paralyzed wife and mother to her absent husband — lends itself to reams of dense, subtext-securing voiceover.
That knowledge makes the already graceful cinematic language of Lynne Ramsay's film adaptation (the Scottish director's third feature, and her first in a regrettable period of nine years) all the more remarkable: altering not a jot of narrative detail, Ramsay and co-writer Rory Kinnear have ingeniously hollowed out Shriver's wordy text into a largely tacit, imagistic memory collage that substitutes sound and vision for dialogue as extensively as possible. The woman who had a similarly unlikely literary hit, Alice Sebold's "The Lovely Bones," taken out of her hands by commercially-minded producers has exacted her revenge in the most rewarding of ways.
Even if you're not among the masses who read the novel, chances are you already know the film hinges on a fictional high school massacre executed by a sociopathic 15 year-old boy, and that it uses a fragmented, both-ends-burning structure to map out the causes and the aftermath of the tragedy from his mother's point of view. If this is news to you, however, it's debatable how long you'd need to watch Ramsay's interpretation before grasping these fundamentals: she courageously opens the film as a kind of saturated, sensory tone poem, splicing together oblique snapshots from past, nearer past and present against brilliantly layered sound design, the bland sputtering of garden sprinklers its unsettling leitmotif.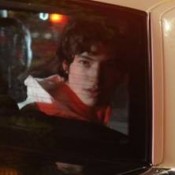 No explanatory route is drawn between shots of an ecstatic Tilda Swinton bathing, Christ-like, in a street of pulped tomatoes at Valencia's La Tomatina festival, and the dour, lanker-haired woman scrubbing splattered red paint from the windshield of her car. As in her 1999 debut "Ratcatcher" and, particularly, her 2002 Alan Warner adaptation "Morvern Callar," Ramsay and her peak-form DP Seamus McGarvey rely on our intuitive emotional response to composition and color (in this case, myriad applications of fire-engine red) to connect events.
It's a high-risk strategy, vulnerable to accusations of both wilful obscurity and unsubtle schematism, but it's an appropriate way to meet Swinton's chilly, ungiving protagonist Eva Khatchadourian, a successful travel writer unable to mask or counter her dismay at the invasiveness of motherhood. The earliest warning signs that Eva and her newborn son Kevin lack some connective tissue are aural ones: a particularly inspired scene has Eva thrilling to the cacophony of jackhammers on the pavement as they partially (and only partially) drown out the baby's ceaseless siren of screams.
The first half-hour of the film is so fragile, so immaculate in its visual and sonic conception, it seems impossible that Ramsay will keep it up. And indeed she doesn't, though not through creative neglect so much as narrative necessity: a story must still get told, after all, and as Kevin grows (via a plausibly continuous succession of extraordinary child performers) from tiny, squealing symbol of defiance to Ezra Miller's malevolent foil, "Kevin" shifts into a less architected but still riveting domestic battle between mother and son.
Whether Kevin has been born a bad seed or irreparably tainted by reluctant mothering is a chicken-or-egg question that filmmaker and author alike steadfastly refuse to answer, but it doesn't prevent the film from cheekily toying with tropes of the demon-child horror subgenre — down to the dramatic strings stabs and curlicues of Jonny Greenwood's inventive art-blues score. (Those who now can't hear The Mamas and the Papas without conjuring memories of "Morvern Callar" will be pleased to hear Ramsay remains a master of the misplaced music cue: Buddy Holly comes in for particularly off-message treatment.) What makes this shift in tone and emphasis penetrating, and not merely lurid, is that Eva is scarcely less alien or antisocial a figure than her boy; the pairing of Swinton and Miller's respective birch-like physiques and dry-ice vocal delivery is a casting masterstroke matched for intelligence by the performances themselves.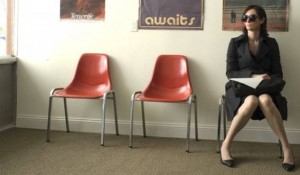 Swinton has been so predictably expert at negotiating panic in spiritually trapped female characters of late, it feels almost redundant to point out that she has done so again here. Still, it's unusual to see her this defeated, vacillating between equally crippling levels of self-awareness and self-deception, though unafraid to play up Eva's resistibility — even with a character whose scale of human suffering could help net her the Best Actress Oscar nomination she's been owed for several years.
18 year-old Miller, his feline eyes wetly taking in the particulars of every frame in which he appears, makes good on his promise in "Afterschool" and "City Island," locating grim humor and fleeting insight in repeated passive-aggressive face-offs with Swinton. (Only John C. Reilly, oddly cast as a kind of rarely-there, good-ol'-boy type, feels ill-used here.)
If "We Need to Talk About Kevin" is to be labelled any one person's triumph, however, it must be Lynne Ramsay's: this question-riddled film may not have quite the environmental specificity of "Ratcatcher" and her shorts, or the tingly intimacy of "Morvern Callar," but it's the bigger, broader application of her five-sense style she needed to make for this long-awaited career re-arrival. It's a testament to the extent that she's sinuously rerouted her harsh source material that full knowledge of the outcome didn't loosen the knot in this viewer's stomach from first pristine frame to last; "I want to throw up," I remarked to a friend upon exiting the theater. "But in a good way."
[Photos: Artificial Eye]