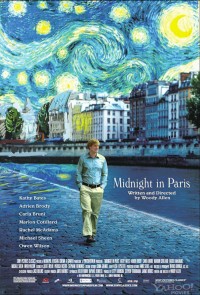 Cannes Film Festival
Opening Night
"The past is a foreign country: they do things differently there." Nobody actually quotes L.P. Hartley in "Midnight in Paris," Woody Allen's often charming if largely over-explicated ode to the healing and deceiving properties of nostalgia. If they don't, however, that could just be because a spring breeze stole the last few pages of the script at some point on the shoot of this amiably unfinished choux-pastry film, and Allen didn't feel much like rewriting them.
Up until that point, Allen hasn't exactly shied away from obvious references or externalized subtext — this is a film that trades in emphatic cultural and historical caricature, a picture-book approach that will delight some viewers even as it strikes others as aggravatingly twee, but one Allen commits to with the take-it-or-leave-it dispatch of a 75 year-old master working in quick-sketch mode.
Either way, the tourist-style filmmaking that surfaced in such recent Allen films as "Match Point" and "Vicky Cristina Barcelona" feels more thematically motivated in "Midnight in Paris," a study of a character not merely a traveller in his physical surroundings, but his generational ones too. I kept wondering if the film's narrowness of perspective was that of Allen or Owen Wilson's Allen-substitute protagonist, and what textual difference the distinction even makes.
Much of Allen's recent work has riffed off themes, structures and even characters he previously visited in more substantial films — "Match Point" reinscribed the arch morality play of "Crimes and Misdemeanors," "You Will Meet a Tall Dark Stranger" the sour figure-eight of marital distrust in "Husbands and Wives" — and "Midnight in Paris" is no different. The touchstone this time appears to be one of Allen's loveliest and most elliptical films, "The Purple Rose of Cairo," with which his latest work shares the fantastical conceit of a heightened parallel world providing refuge for a character insecure in the present. Where the 1985 film used whimsy as a gateway to cruel melancholy, here it mainly ushers in further whimsy; Allen keeps the film in a fairytale realm throughout, where the only truths faced by his character are ones too self-evident to cause much pain.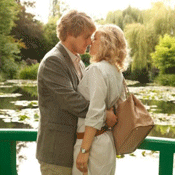 Wilson plays Gil, another of Allen's patented reality-shy creative types: a demotivated writer (and with reason, if the short extract we hear from his long-festering novel is anything to go by) holidaying in the City of Lights with his prissy, passionless fiancée (Rachel McAdams) and her awful Tea Party loyalist parents, he grim-facedly follows their expensively dull itinerary until happening upon, at the titular witching hour, a casual portal into Jazz-Age Paris. There Scott and Zelda Fitzgerald knock back drinks with Ernest Hemingway, who in turn seeks the literary counsel of Gertrude Stein (a genially hammy Kathy Bates), all while Cole Porter tickles the ivories somewhere in the background.
Initially thinking he's entered the world's most poker-faced costume party, Gil soon gets to using his time-travelling powers to pick the brains of his heroes, romance Marion Cotillard's flapper-turned-muse and generally have the drabness of his 21st-century life put in relief for him — though things start picking up there, too, as several comely Parisian women, apparently powerless to resist the charms of solipsistic Yanks in Old Navy chinos, begin stalking him around the notably depopulated city.
The first half is sprightly stuff in a minor key, bolstered considerably by Darius Khondji's velvety lensing and the droll, unaffected appeal of Wilson — a smart enough actor to realize that his own puppyish manchild persona is a suitable alternative to the jittery nebbishness so slavishly forged by other actors to have taken 'the Allen role' in one of the director's latter-day features. The casual appearance of historical figures is a skit-sized gimmick that outstays its welcome after a while — and Allen makes curiously little use of the premise's "Back to the Future"-style potential for comedy of anachronism — but affords most of the biggest laughs in a film more amusing than outright funny. Corey Stoll's Hemingway, booming his blowhard dialogue ("Have you ever shot a charging lion?") with cadences that wittily recall the man's prose, is a delight, as is Adrien Brody's preening, rhinoceros-fixated Dalí.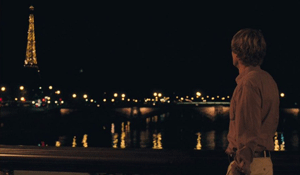 But having offered the audiences his most stimulating creative set-up in at least a decade, Allen proceeds to probe it very little in the film's latter stages: Gil's worlds remain neatly separate, and the suggestion that one of  his present-day love interests (Carla Bruni's tour guide) is some parallel incarnation of Cotillard's character is so fleeting as to be near-accidental. As thematic development stalls in the one-joke fantasy section, it positively regresses back in the now, as the off-puttingly binary approach to female characterization that so hampered "Whatever Works" and "You Will Meet a Tall Dark Stranger" once more rears its head.
If they aren't Gertrude Stein, women in Gil's world are either sweetly wistful dreamgirls or featureless, micromanaging shrews like McAdams' character, a cream-dressed gorgon who spits out lines like, "You always side with the help." There's scant evidence as to why she and Gil were ever a match in the first place, which renders the film's past-versus-present conversation a flatly one-sided one, even when Cotillard and Wilson begin helpfully explaining Allen's already transparent grass-is-always-greener moral in unwieldy paragraphs of dialogue. For a film that initially seems to have little to say, "Midnight in Paris" starts saying it rather too loudly.
The most interesting and provocative read of the film is that its lapses into platitude and cliché are a wry reflection of Gil's own emotional and intellectual limitations — none of which are expanded by a rushed happy ending that leaves an entire character's strand flapping forlornly in the wind. But even the least generous take shouldn't overrule the superficial pleasures of  this easy-to-take bauble, particularly after the mean-spiritedness of his last pair of features: jaunty, elegantly turned and styled to look like an antique music box, "Midnight in Paris" suggests that while the past (and occasionally even the present) may be a foreign country, some are happy just passing through.
[Photos: Sony Pictures Classics]