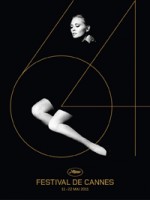 I've been in Cannes less than 12 hours and already I can feel the sleep deficit kicking in, so I'll keep this post short. It's been an administrative day, anyway: unpacking, registering, collecting my press badge (in the rigid Cannes class system, I've been upgraded from a yellow badge to a blue one, so I guess Thierry Frémaux received my muffin basket) and moving into the apartment (improbably named Villa Romance) that I'll share for the next 12 days with US critics James Rocchi and Aaron Hillis. (Karina Longworth joins our household tomorrow. There's a decidedly niche sitcom waiting to be made here, folks.)
You may have noticed that this evening, and not a moment too soon, I completed my Cannes Check series breaking down the individual titles in Competition — you can catch up with all 20 entries here.
One more plug, while I'm about it: I'm taking part in Ioncinema's 2011 Cannes Critics' Panel, in which a selection of 16 international critics will rate the festival's major films on a daily basis. Like an expanded version of Screen Daily's traditional poll, it's a handy way to monitor the consensus hits and misses; check out the full panel here.
Housekeeping out the way, the fun and games officially begin tomorrow, as Woody Allen's "Midnight in Paris" (about which I've already heard positive word from trusted sources) opens the festival. I'll be catching it at the 11am press screening, and bringing you a review as soon as I can hammer one out — keep an eye on my Twitter feed for quicker reactions. Tomorrow evening, meanwhile, Julia Leigh's buzzy debut feature "Sleeping Beauty" kicks off the Competition. Beyond that, I'm still trying to devise a vaguely coherent schedule from the mass of conflicting festival strands — not to mention a market section stacked with curiosities. (Famke Janssen's directorial debut, anyone?)
Now, sleep. Tomorrow, a swim. Then a croissant. Then Woody. And so on. It'll get more difficult than this.
[Image: Cannes Film Festival]