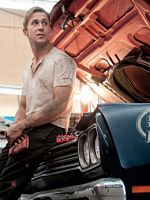 The director: Nicolas Winding Refn (Denmark)
The talent: Ryan Gosling and Carey Mulligan — the latter making her first significant foray into multiplex territory — are the star attractions here, but the supporting cast isn't too shabby, either: Albert Brooks, Ron Perlman and current TV darlings Christina Hendricks and Bryan Cranston are all on board. The screenplay, adapted from a James Sallis novel, has a rather unexpected name attached to it: Hossein Amini, an Oscar nominee for 1997's "The Wings of the Dove." Reliable Hollywood workhorse Newton Thomas Sigel ("Three Kings," "X-Men") is the DP; Cliff Martinez, best known for his collaborations with Steven Soderbergh, did the score.
The pitch: The most overtly mainstream film in Competition this year, "Drive" seemingly marks subversive Danish genre stylist Winding Refn's shift into the realm of slam-bang Hollywood action, via the classic subgenre of the car-chase thriller. Gosling plays a movie stunt driver moonlighting as a hired getaway driver for assorted Los Angeles criminals. After one botched job for the husband of his attractive neighbor (Mulligan), he is forced to drive for his life and hers. The synopsis (and indeed the little footage we've seen) promises an old-school, hard-boiled entertainment in the vein of early Walter Hill or Michael Mann; not the sort of thing we usually expect to see vying for the Palme d'Or, and no less welcome for that.
The pedigree: This is Winding Refn's first time competing at Cannes, or indeed any major European festival; the closest he came before this was a competition slot at Sundance for his aggressively stylized criminal biopic "Bronson." Still, his inclusion this year was widely applauded: over such films as "Valhalla Rising" and the "Pusher" trilogy, he's acquired a cult following, as well as enough detractors to qualify him as a vital, thorny auteur.
The buzz: Advance hopes that the film could turn out to be that rarest of beasts — an intelligent Hollywood actioner — were buttressed by a sensational two-minute clip released on the Cannes website that suggested neither the high-end stars nor their offbeat director had succumbed out to lazy audience-pandering. "Drive" is sufficiently atypical a choice on the part of Thierry Frémaux to make you wonder what he knows that we don't — does the film contain a hidden twist on the genre it appears to fall into, or is it a rare and exemplary example of the form? Programming it in the second week of the fest could prove beneficial: audiences will be hungry for a little popcorn fun by then.
The odds: However good it might be, it's hard to imagine a straight-up action pic taking the world's premier art-film prize, but then, this year's jury is perhaps a little more mainstream in its makeup as usual. (And who knows, maybe Robert De Niro harbors very fond memories of his car-chase potboiler "Ronin.") If the film is a hit on the Croisette, a runner-up prize (or Best Actor for Gosling, a credible movie star now ripe for such an honor) of some sort wouldn't come as a total surprise, as if to say the festival can still get down.