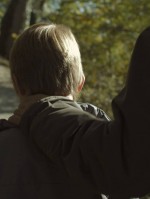 The director: Markus Schleinzer (Austria)
The talent: An actor and accomplished casting director — whose credits in the latter field include several films by his compatriots Michael Haneke and Jessica Hausner — 39 year-old Schleinzer has cast his debut feature as writer-director with several actors he previously tapped for other directors' films. Lead actor Michael Futih won't be an especially familiar name to international audiences, while his young co-star David Rauchenberger is a newcomer. Overall, the film has less name appeal than of its Competition rivals, making it one of the lineup's more intriguing prospects.
The pitch: This may disappoint you, but Schleinzer's debut isn't an arthouse remake of Nora Ephron's 1996 Travolta-as-angel romcom of the same title. Something rather more somber awaits. Only a one-line synopsis has been issued, describing the film as a study of "the last five months of 10-year-old Wolfgang and 35-year-old Michael's involuntary life together." That coy "involuntary" evidently refers to a kidnapping: the film is allegedly inspired by the real-life case of Natascha Kampusch, the Austrian girl abducted at the age of 10 and held captive for eight years. With Austria having been rocked both by this and the Josef Fritzl case in recent years, Schleinzer's film looks likely to touch on a few nerves.
The pedigree: Schleinzer is the lower-profile of the Competition's two first-time filmmakers (the other one, Australia's Julia Leigh, we covered here), though he does boast a casting director credit on the 2009 Palme d'Or winner, "The White Ribbon."
The buzz: Predictably quiet, given its unknown-quantity director, lack of recognizable names attached and terse synopsis. Still, for Thierry Frémaux to have placed such a relatively obscure title in Competition instead of the second-tier Un Certain Regard category suggests they know something we don't. Austrian cinema has been enjoying something of a revival in recent years, thanks to such directors as Jessica Hausner ("Lourdes"), Götz Spielmann ("Revanche") and Benjamin Heisenberg ("The Robber"); this fast-track selection of Schleinzer suggests he could join their ranks.
The odds: The definition of a wild-card: we currently know too little about the film to regard it as anything but a long shot for the Palme, particularly with no first-time filmmaker having taken the prize since Steven Soderbergh in 1989. That said, if "Michael" wows critics when it screens — or simply arouses discussion, quite possible given the subject matter — that could all change. Schleinzer's career history bodes well for strong performances, so add Futih and/or Rauchenberger to the list of Best Actor possibilities.