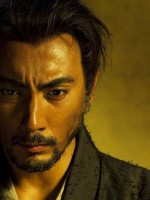 The director: Takashi Miike (Japan)
The talent: Leading man Ebizô Ichikawa is a well-regarded Kabuki actor with a short screen résumé. International audiences are likelier to recognize his more senior co-star, Kôji Yakusho ("Shall We Dance," "Babel"), who worked with Miike on the recent "13 Assassins" (currently in US theaters, reviewed here). Also returning from Miike's last samurai epic is Oscar-winning producer Jeremy Thomas ("The Last Emperor"). He's not the only Oscar-winning "Emperor" alumnus here: revered composer Ryuichi Sakamoto is on board. Finally, a note for trivia buffs: costume designer Kazuko Kurosawa is Akira's daughter, so I'm guessing she knows her samurai.
The pitch: After this year's Berlinale effectively sanctioned the union of 3D and the arthouse, Cannes is following suit: Miike's latest is the first 3D film to play in Competition. That gimmick aside, "Hara-Kiri" sounds classical enough. Based on a Yasuhiko Takiguchi novel that was previously filmed in 1962, the film centers on a failed samurai whose request to commit ritual suicide is dismissed by his commander — the starting point for a tangle of backstories leading to (what else?) "a tense showdown of vengeance."
The dense detailing of samurai politics in "13 Assassins" is merely foreplay for a spectacular, bloody all-action finale, and "Hara-Kiri" seems likely to follow the same structure — just with severed limbs flying straight at the audience this time.
The pedigree: Miike is so bewilderingly prolific that it comes as something of a surprise to learn he's never been in Competition at Cannes before. He's nonetheless one of the most established brands in the lineup, while the surprise critical success of "13 Assassins" at Venice last September — coming after a run of films that didn't really cross over — raised his stock considerably.
The buzz: With Miike in the unusual position of premiering his new film just as the last one hits theaters in the US and the UK — and taking into account that the new film sounds rather a lot like the last one — it's hard to separate the buzz for the two. That's no bad thing: critics still fresh off the high of "13 Assassins" will walk into "Hara-Kiri" more pumped than they would have been otherwise. Still, the situation also poses potential for a swift backlash: some will want Miike to make the same film again, others will be quick to accuse him of laziness if he does so. Similarly, the addition of 3D to the formula could be an asset or a hurdle. If well-integrated, it could enhance otherwise familiar virtues; if not, it'll give jaded critics something else to complain about. Either way, it's one of the Competition's most commercially viable entries.
The odds: Even if it goes down as a crowd-pleaser, it seems unlikely the jury will go out of its way to reward a genre effort, and a remake at that, that doesn't appear to be stretching the boundaries of either its director or the genre in question. (It's worth noting that, even with a jury president as Miike-friendly as Quentin Tarantino, "13 Assassins" left Venice empty-handed.) If the film is a particularly fine demonstration of his craft, some kind of disguised career award (Best Director, say) for Miike is conceivable, but this seems more an audience-targeted selection.