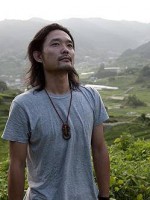 The director: Naomi Kawase (Japan)
The talent: Details on Kawase's film are so thin on the ground that I can't find so much as a DP credit. This much we know: Kawase wrote the screenplay from a novel by female Japanese novelist Masako Bando, and the film's little-known stars are Tohta Komizu and Hako Oshima. I could add that Bando has odd views on cat murder, but that would just be filling space.
The pitch: Announcing the selection of "Hanezu" at the press conference, festival director Thierry Frémaux described the film as one that tackles "the issue of the future of the globe, from a philosophical point of view." The film's cryptic official synopsis (peppered with helpful lines like "the mountains were an expression of human karma") suggests an across-the-centuries study of Japan's rural Hasuka region, landing upon two young protagonists in the present day, their story "representing the uncountable souls that have accumulated in this land." I suppose it'll add up when we see it, while the film's environmental themes could prove timely in light of Japan's recent misfortunes.
The pedigree: Kawase's work hasn't really crossed over to Western arthouses, but that's not to say she isn't a familiar presence at Cannes. Since winning the Camera d'Or (Best First Feature) in 1997 for "Suzaku" (at 27, the youngest director ever to do so), she has twice found herself in Competition. On the second of those occasions, in 2007, she was a surprise winner of the Grand Prix for "The Mourning Forest" — yet the film, which attracted mixed reviews on the Croisette, still couldn't secure US or UK distribution. Kawase thus finds herself in the unusual position of being a Cannes darling known to few beyond the festival's most regular attendees.
The buzz: With the film still such an unknown quantity, buzz is quietly speculative — though Frémaux's description got some pundits curious as to the film's potential topicality.
The odds: Very strong indeed, in spite (or rather because) of the mystery factor — the estimable Neil Young has her in pole position. Admittedly, some of the reasons for betting on Kawase are cynical ones: festival juries have been known to take external factors into account when voting, and the sentimental temptation to reward a Japanese filmmaker this year could be strong, particularly for an ecologically-themed film.
Meanwhile, after last year's all-male lineup, the record number of female directors in Competition has been a talking point; it seems likely the jury will reward at least one of them with a major prize. Meanwhile, as with Ceylan or Kaurismäki, Kawase's gradual climb up the Cannes award ladder also works in her favor. (On the other hand, it's worth noting that last year's "Uncle Boonmee Who Can Recall His Past Lives" was the first Asian title in 13 years to land the Palme; two in a row would be unprecedented.)