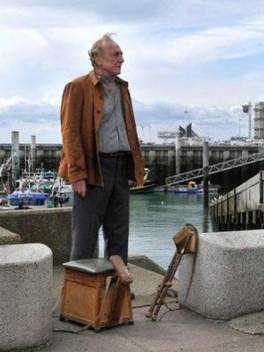 The director: Aki Kaurismäki (Finland)
The talent: Writer-director-producer Kaurismäki's latest features a gaggle of names that should be familiar to his fans. Veteran French actor André Wilms, whose association with the filmmaker dates back to 1992's "The Bohemian Life" (for which he won a European Film Award) takes the lead here, while other Kaurismäki alumni in the cast include New Wave icon Jean-Pierre Léaud and, of course, the director's favorite actress Kati Outinen. His regular crew returns as well, notably his career-long DP Timo Salminen.
The pitch: The Finnish auteur's second French-language effort (and his first since 1992) is a comedy-drama set and filmed in the French port city that gives the film its title. That the name also translates as "the haven" is no coincidence: the film tells the story of an elderly boot polisher (Wilms) who takes an African refugee child under his wing. The premise seemingly lends itself to Kaurismäki's usual brand of melancholy whimsy, though perhaps with a touch more sentiment than usual.
The pedigree: Another old hand at this, Kaurismäki has been in Competition at Cannes three times before, peaking with 2002's "The Man Without a Past" — which took the Grand Prix and the Best Actress prize, and went on to land an unexpected Oscar nomination. On either side of that success: "Drifting Clouds" was rewarded by the Ecumenical Jury in 1996, but his last feature "Lights in the Dusk," widely deemed a slight effort, left the Croisette empty-handed.
The buzz: Kaurismäki is such a low-key figure on the scene, his oeuvre one of mostly gentle pleasures, that his films are likelier to accrue chatter after screening. ("The Man Without a Past" wasn't one of the buzzier films heading into the festival, or even into the awards ceremony, but that proved no hindrance.) Certainly, the new film's French setting (and co-production) status will give it a higher profile with the fest's home crowd; Thierry Frémaux described it as "special in [Kaurismäki's] career" for that reason.
The odds: Strong. As I've mentioned before, Cannes juries often like to hand the Palme to a director who has climbed the ladder of Cannes awards, and Kaurismäki is one of the longer-serving filmmakers in this year's crop. The film's half-French status could give it a boost, as could the emotional appeal of a man-and-boy story — Cannes juries, who have previously honored the likes of "Cinema Paradiso" and "Life is Beautiful," are not averse to having their heartstrings tugged. Add Wilms high up on the long list of Best Actor possibilities.