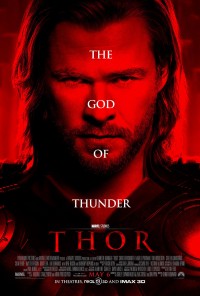 As superheroes go—and go they do, with alarming frequency, at the cape-wearers' convention that the multiplex has become in recent years—Thor, or at least the Marvel-authored Artist Formerly Known As Norse God Thor, is more super than most. Where most beloved superheroes are humans (at least ostensibly so) who grow into their superhuman powers as a kind of parallel puberty, Thor needn't waste time on any such learning curve.
He is, to reappropriate a quote from "Almost Famous," a Golden God—quite literally golden as played by aggressively blond Australian up-and-comer Chris Hemsworth—and as such, preternatural strength and ability are things to which he feels entitled, not enslaved. Marvel's Thor may be as boyish as the gangly Peter Parker or the gizmo-rapt Bruce Wayne, but it's a boyishness of lifelong petulance rather than golly-gee self-awe; he may be better than his superhero brethren, but he's also harder to know.
That obstacle of relatability is both a debit and a distinguishing asset in Kenneth Branagh's poppy, spirited addition to the Marvel adaptation gallery, and something that ultimately cleaves the film in two. An odd couple of films jostles for space in Branagh's surprisingly trim 114-minute package: one a dourly earnest celestial battle epic set in Thor's mythical, CGI-built home realm of Asgard, the other a sweetly goofy alien comedy set in the decidedly unmagical realm of New Mexico.
Individual mileage may vary as to which of these films you'd rather be watching—this viewer found himself sighing each time the camera swooped up through the stars to Norseville—but while the tonal discontinuity could be seen as a novel affectation, the film's uneven visual textures and gear-grinding pacing do little to bond the whole.
Thor himself is the source of the fluctuation: a consistent character given a strikingly different read by his planetary surroundings. He begins the film in full-on spoiled young Turk mode: on the verge of taking the supremo-god mantle from weary-wise father Odin (Anthony Hopkins, his sonorous narration lending the film some classical, if improbably Welsh, gravitas from the get-go), smarmily winking to his mother (Rene Russo, in a sadly inconsequential return to the screen) at his coronation, and cheerily patronizing his sullen brother Loki (electric young Brit Tom Hiddleston), all in a manner that telegraphs a fall from grace sooner rather than later. Sooner it is, as he picks an ill-advised fight with Asgard's self-explanatorily named enemies the Frost Giants—for cliquishness is next to godliness, apparently—and is duly exiled to Earth by his affronted pa.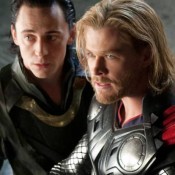 All this business takes up a somewhat humorless half-hour of screen time, made additionally claustrophobic by wall-to-wall digital sets that alternate between the disappointingly Mattel-sheen opulence of Asgard, where even the Alexandra Byrne-created robes carry a Halloween-costume whiff, and the dank stalagmite playground of the Frost Giant lair – where the film's otherwise superfluous 3D is at its most grayingly murky.
Branagh, already working commendably far from his Masterpiece Theater comfort zone, hasn't quite the technical savoir-faire to make this kind of lurid spectacle soar, so the film hits terra firma in more ways than one when Hemsworth falls from the sky and into the car of Natalie Portman's fortunate research scientist Jane. Needless to say, the story gets no less silly from this point, as Thor enters twin grudge matches with both his Asgard oppressors and the black-suited FBI agents who are standing in the way of Jane and her vaguely defined but presumably world-beating research. But as our increasingly flummoxed hero takes on the no-horse desert town of Puente Antiguo, the film hits a comfy comic stride that makes a virtue of Branagh's penchant for arch theatricality.
The freakish self-possession that makes Thor a somewhat impenetrable presence above the clouds becomes wholly disarming below them: it's hard not to love the guy who, in the film's single most treasurable scene, marches into a pet store with the booming imperative, "I want a horse!" If anything, the film's corral of screenwriters might have teased out these delusions a little longer before domesticating him; Thor takes to wearing snug Levis and whipping up scrambled eggs with amusing rapidity, all the better to hasten an appealing (if mythologically bewildering) romance with the untaxed but pleasingly game Portman.
Hemsworth, previously a less-than-distinct recruit in Hollywood's curious mini-army of Nordic-featured Chrisses, deserves much credit for the film's upswing here: as physically formidable as a mortal playing the God of Thunder is required to be, he nonetheless counters the hulkishness with spry comic timing and genial regard for his co-stars. It's easy to imagine how a duller leading man could have scuppered the whole enterprise; this unexpected flash of star quality suddenly makes Joss Whedon's upcoming superhero-soup movie "The Avengers," in which Hemsworth reprises his Thor opposite the likes of Robert Downey Jr.'s Tony Stark, a more appetizing prospect.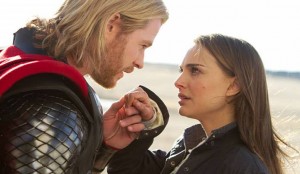 The actors, in fact, are all on rather better form than the functional writing demands: Kat Dennings and Stellan Skarsgård are dippy fun as Portman's sidekicks, and if Hopkins is phoning it in as usual, he at least remembers to leave a message this time. Best of all is Hiddleston, a former collaborator with Branagh on stage and television, here acing his audition for the mainstream: though he plays Loki with the necessary dose of lascivious Bond-villain camp, there's a weighty emotional acuity here that Branagh himself might have mustered 20 years ago.
Indeed, if "Thor," with its eccentric split personality, ragged construction and hot-and-cold technical contributions, still emerges as fizzier, heartier and more generous than most comparable blockbusters cluttering the release schedule, the actorly empathy of its director may be what makes the difference. Fanboys reacted with some hostility when it was revealed Branagh would shepherd this Marvel property to screen —and in fairness, nothing he'd directed since 1996's "Hamlet" automatically suggested he was to be trusted with any major mainstream project—but if his awkward handling of certain action and fantasy set pieces is unlikely to appease them, it's refreshing to see a superhero picture that trades in human wit rather than lazy irony. It's scarcely surprising, then, that this virtue is most apparent when the film remains earthbound: in this particular face-off of gods and men, the men have it.
[Images: Paramount Pictures]