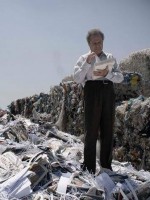 (Thanks to Israeli film critic Yonatan Doron for chipping in with extra information about this title. If any readers think they can help with further entries in this series, do get in touch.)
The director: Joseph Cedar (Israel)
The talent: Good news for fans of 2001's wonderful arthouse hit "Late Marriage": that film's leading man, Lior Ashkenazi, headlines here. Other names will be less familiar to those outside Israel: Ashkenazi's older co-lead, Shlomo Bar-Abba, is famed in his homeland as an eccentric TV comedian, but hasn't appeared in a film in 22 years. Cedar himself, of course, carries his own level of cachet — more on that below.
The pitch: In the press conference unveiling this year's Cannes slate, festival director Thierry Frémaux described "Footnote" as one of the Competition's more light-hearted entries, though there's conflicting word on whether or not we should expect an outright comedy.
Bar-Abba and Ashkenazi play rival Talmud professors who also happen to be father and son — the competition between them grows more heated when the father learns he is to receive the Israel Prize, a state award modelled after the Nobel. Cedar's own father, Howard, won the Israel Prize for Biology in 1999, so the narrative may or may not be informed by a hint of personal experience.
The pedigree: Another of the Competition's younger entrants at 42 years of age, New York-born writer-director Cedar is a newcomer to Cannes, having debuted the last two of his three previous features in the more wintry climes of the Berlinale. His reputation is largely built upon his 2007 war drama "Beaufort," which netted him the Best Director prize in Berlin and an Oscar nod for Best Foreign Language Film.
The buzz: Another of the Competition's lower-profile titles in terms of press attention and critical anticipation ("Beaufort" certainly performed respectably, but wasn't quite an arthouse sensation), the very arrival of "Footnote" in the festival nonetheless bodes well. The film was initially set to continue the pattern set by Cedar's previous films with a Berlin premiere, until it got a more glamorous invitation from Cannes — suggesting Frémaux might know something we don't.
The odds: Currently in the middle of the pack, but worth a punt. The film could prove too lightweight for the Palme d'Or, but consolation prizes seem quite plausible on paper. A joint Best Actor prize for the two leads would be a typical Cannes move, while the film's comic elements and academic context might lend themelves to a screenplay award. (It's worth noting that Israel's Cannes trophy cabinet is limited to two acting trophies across 50 years; even "Waltz With Bashir" left the Croisette empty-handed three years ago.) On a side note, if the film goes down well at home, there's a strong chance it'll return Cedar to the foreign Oscar race, where the country has competed in three of the last four years.
Teaser trailers below.
[Photo: Mubi]