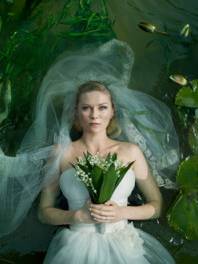 After weeks of speculation, this year's Cannes lineup was unveiled in spectacularly long-winded fashion by fest director Thierry Frémaux this morning. (French TV networks clearly got so bored with his sidebar discussions on each title he announced that they helpfully cut to commercial halfway through the press conference.)
Anyway, the speculation was largely borne out — most of the names you expected to see here are present and correct, including such Cannes regulars as Pedro Almodóvar, Lars von Trier, Nuri Bilge Ceylan and the Dardenne brothers.
Meanwhile, the question on whether or not Terrence Malick's "The Tree of Life" would play in competition has been answered in the affirmative. Malick's inclusion makes this to second Cannes competition slate in a row to feature only one American filmmaker, though it's something of an upgrade from from last year's Doug Liman head-scratcher.
[More thoughts, and the full lineup, after the cut.]
The biggest surprise here is probably seeing Bruno Dumont, a two-time Grand Prix winner at the fest, relegated to Un Certain Regard, generally (if not always fairly) perceived as the second-string contest. He's in esteemed company, however: also dipping to the smaller league after three Competition runs (and one Palme d'Or win) is Gus Van Sant, whose seemingly fantasy-tinged teen romance "Restless" will open the section. In their place, I doubt many expected to see "Valhalla Rising" director Nicolas Winding Refn granted Competition status for his Ryan Gosling-Carey Mulligan thriller "Drive."
The most pleasant surprise of the morning suggests Cannes brass heard the complaints that greeted last year's all-male Competition lineup: this year, a record four female directors are in the running for the Palme d'Or, including Australian debut filmmaker Julia Leigh and the long-absent Lynne Ramsay. The latter's first film in nine years, an adaptation of the Lionel Shriver bestseller "We Need to Talk About Kevin" headlined by Tilda Swinton, eclipses even "The Tree of Life" and "Melancholia" on my 'most-anticipated' list, but there's an awful lot to look forward to here.
I'll offer further thoughts on the potential highlights of the lineup a little later. Bear in mind that as many as three further Competition entries could be announced in the coming weeks (giving hope, among others, to fans of "Dogtooth" director Yorgos Lanthimos, whose latest was widely expected to show up this morning). Don't forget that I'll be in Cannes again for the full duration of the festival to bring you first-hand reports and reviews. The fun starts on May 11.
Here's the full rundown:
Competition
"The Skin I Inhabit," Pedro Almodóvar
"L'apollinide (Souvenirs de la maison close)," Bertrand Bonello
"Pater," Alain Cavalier
"Footnote," Joseph Cedar
"Once Upon a Time in Anatolia," Nuri Bilge Ceylan
"Set Me Free," Jean-Pierre and Luc Dardenne
"Le Havre," Aki Kaurismäki
"Hanezu No Tsuki," Naomi Kawase
"Sleeping Beauty," Julia Leigh
"Polisse," Maïwenn
"The Tree of Life," Terrence Malick
"The Source," Radu Mihaileanu
"Hara-Kiri: Death of a Samurai," Takashi Miike
"Habemus Papam," Nanni Moretti
"We Need to Talk About Kevin," Lynne Ramsay
"Michael," Markus Schleinzer
"This Must Be the Place," Paolo Sorrentino
"Melancholia," Lars von Trier
"Drive," Nicolas Winding Refn
Un Certain Regard
"The Hunter," Bakur Bakuradze
"Halt auf freier Strecke," Andreas Dresen
"Hors Satan," Bruno Dumont
"Martha Marcy May Marlene," Sean Durkin
"The Snows of Kilimanjaro," Robert Guédiguian
"Skoonheid," Oliver Hermanus
"The Day He Arrives," Hong Sangsoo
"Bonsaï," Cristián Jiménez
"Tatsumi," Eric Khoo
"Arirang," Kim Ki-duk
"Where Do We Go Now?," Nadine Labaki
"Loverboy," Catalin Mitulescu
"Yellow Sea," Na Hong-jin
"Miss Bala," Gerardo Naranjo
"Trabalar Cansa," Juliana Rojas and Marco Dutra
"L'exercice de l'État," Pierre Schöller
"Toomelah," Ivan Sen
"Oslo, August 31," Joachim Trier
"Restless," Gus Van Sant
Out of Competition
"Midnight in Paris," Woody Allen (opening film)
"The Conquest," Xavier Durringer
"The Beaver," Jodie Foster
"The Artist," Michel Hazanavicius
"Pirates of the Caribbean: On Stranger Tides," Rob Marshall
"Wu Xia," Chan Peter Ho-Sun
"Days of Grace," Everardo Gout
"Out of Bounds," Frederikke Aspöck
"Le maître des forges de l'enfer," Rithy Panh
"Michel Petrucciani," Michael Radford
"Tous Au Larzac," Christian Rouaud